China raises 636 fatalities and 31,161 those infected by the new outbreak of coronavirus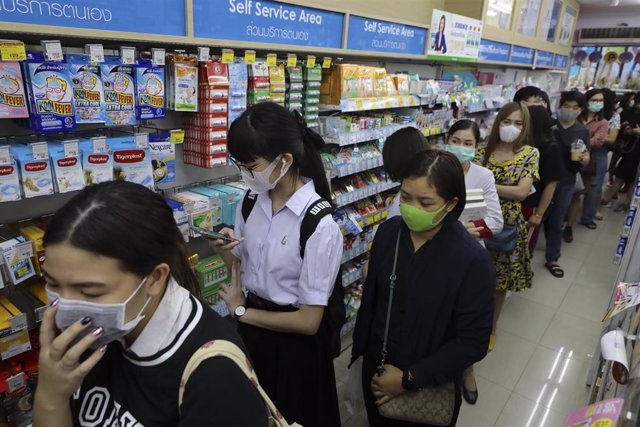 People queuing at a pharmacy in Bangkok, Thailand, to buy masks to protect against a possible coronavirus infection. – Patipat Janthong / SOPA Images via / DPA
BEIJING, Feb. 7 (Xinhua / EP) –
The Ministry of Health of China has raised this Friday to 636 the number of fatalities due to the outbreak of the new coronavirus and 31,161 cases of infected people in the country.
The health authorities have detailed that on Thursday there have been 73 new deaths, 69 of them in the province of Hubei, where the town of Wuhan is located, epicenter of the outbreak, one in the municipality of Tianjin (northern China), one in the northeastern province of Heilongjiang and another one in the southwestern province of Guizhou.
So far, a total of 1,540 people infected with the new coronavirus have been discharged from hospitals after they have recovered, as reported by the Chinese authorities.
Among those infected is, as reported on Wednesday the Wuhan Hospital, a baby, who has been infected only 30 hours after birth, but is stable and under observation.
The mother, who gave birth on February 2, also tested positive for the virus before giving birth, said Union Hospital, affiliated with Tongji Medical College of Huazhong University of Science and Technology. Your baby is the youngest registered case infected with the coronavirus.
For its part, the World Health Organization (WHO), which announced a week ago its decision to declare the outbreak of a new coronavirus as a global health emergency, has asked the international community on Wednesday to double its efforts and its solidarity with the In order to control the disease.
WHO has asked for about 613 million euros to finance the launch in its next three months of its Strategic Preparedness and Response Plan against coronavirus.
As for the Government of China, the Ministry of Science and Technology (MOST) has approved the registration for clinical trials with the antiviral drug remdesivir, and the first group of pneumonia patients infected with the new coronavirus is expected to start taking the medication this Thursday.
Although China is the epicenter of the outbreak and the most affected country, the coronavirus has already spread to other countries in Southeast Asia and cases have also been detected in Europe and America. Outside of China, two people have died from the virus. The first in the Philippines and the other in Hong Kong.
Common signs of infection include respiratory symptoms, fever, cough and shortness of breath. In more severe cases, the infection can cause pneumonia, severe acute respiratory syndrome, kidney failure and even death.
In 2003, more than 600 people had died in China because of the outbreak of SARS or acute respiratory syndrome that was first detected in 2002, while the global figure reached 765 deaths.