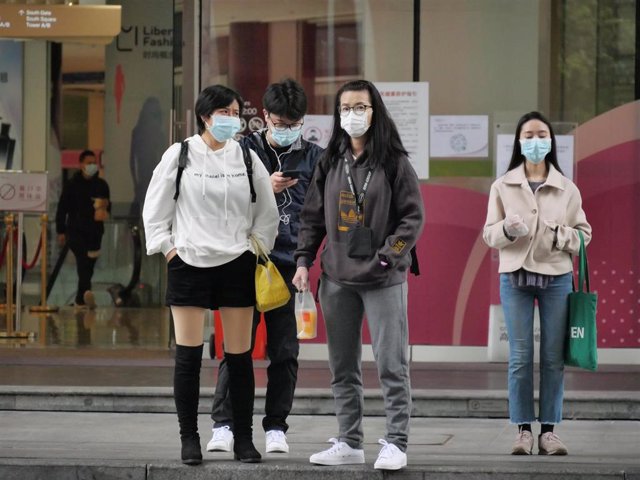 Passengers wait with masks at a train station in China. – Li Zhihao / SIPA Asia via ZUMA Wir / DPA
BEIJING, Feb. 18 (Xinhua / EP) –
The Ministry of Health of China on Tuesday raised the balance of the outbreak of the new coronavirus originated in the city of Wuhan to 1,868 dead and 72,434 infected.
China raises 1,868 deaths and 72,434 those affected by the new coronavirus
China's health authorities have confirmed 1,886 new cases until Sunday night due to the coronavirus, as well as 98 deaths, of which 93 were in Hubei province, where Wuhan is located, three in Henan and one in Hebei and Hunan.
However, the Government announced Tuesday that 79 cases have been registered outside Hubei, which means, for the fourteenth consecutive day, a further decline in these areas beyond the epicenter of the outbreak.
Also, 1,701 patients were discharged, which represents a total of 12,522 people recovered from the disease.
China has also taken stock of its administrative regions with special status and has indicated that until Saturday there were 56 confirmed cases of coronavirus, including one deceased, in Hong Kong, ten cases in Macao and 18 in Taiwan. In addition, one patient in Hong Kong, three in Macao and two in Taiwan have been discharged after recovery.
Although the epicenter of the coronavirus is in Wuhan and most cases are registered in China, cases have been detected in other countries in Southeast Asia, Europe and America. The World Health Organization (WHO) declared the international health emergency at the end of January and has asked the international community to redouble its efforts.
Common signs of infection include respiratory symptoms, fever, cough and shortness of breath. In more severe cases, the infection can cause pneumonia, severe acute respiratory syndrome, kidney failure and even death.
The data of deaths due to the outbreak of the new coronavirus exceed those recorded due to the outbreak of SARS or acute respiratory syndrome that was first detected in 2002. In 2003, more than 600 people had died in China because of this virus, while the global figure reached 765 deceased.