China proposes to let Xi Jinping extend presidency beyond 2023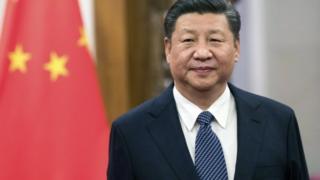 China's governing Communist Party has proposed removing a clause in the constitution which limits presidencies service to two five-year terms.
The move would allow the current President Xi Jinping to remain as leader after he is due to step down.
There had been widespread speculation that Mr Xi would seek to extend his presidency beyond 2023.
Party congress last year saw him cement his status as the most powerful leader since the late Mao Zedong.
His ideology was also enshrined in the party's constitution, and in a break with convention, no obvious successor was unveiled.
Xi: Revolutionary's son turned dominant leader

Meet China's new leaders
What do we know about the move?
The announcement was carried on state news agency Xinhua on Sunday.
"The Communist Party of China Central Committee proposed to remove the expression that the President and Vice-President of the People's Republic of China 'shall serve no more than two consecutive terms' from the country's Constitution," it reported.
It gave no other details, but the full proposal is due to be released shortly.
The move comes with the top officials who make up the party's Central Committee due to meet on Monday in Beijing.
The proposal will go before legislators at the annual full session of the National People's Congress which starts on 5 March.
How significant is this?
Mr Xi has been president since 2013 and under the current system was due to step down in 2023.
The tradition of limiting presidencies to 10 years emerged in the 1990s, when veteran leader Deng Xiaoping sought to avoid a repeat of the chaos that had marked the Mao era and its immediate aftermath.
Mr Xi's two predecessors have followed the orderly pattern of succession. But since he came to power in 2012, he has shown a readiness to write his own rules.