China "perfect á" the Hong Kong leader naming system but will not tolerate á separatism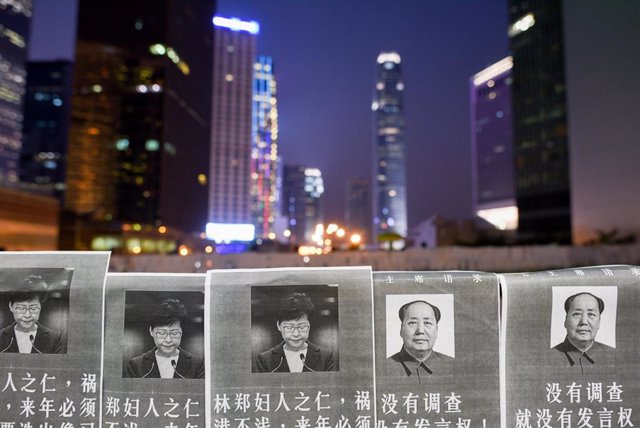 Posters with images of Carrie Lam and Mao Tse Tung in Hong Kong – Mehdi Chebil – Archive
BEIJING, Nov. 1 (Reuters / EP) –
China will "perfect" the way in which the leader of Hong Kong is named and relieved but will not tolerate separatism or threats to national security, a senior Beijing official said Friday after a high-level meeting .
The last five months of anti-government protests in the former British colony represent the biggest popular challenge to the government of the Chinese president, Xi Jinping, since he took over the country in late 2012.
On Thursday, the party promised to guarantee the stability of Hong Kong, after a four-day closed-door meeting between the main leaders of the Communist Party in Beijing, which denotes the importance that the regime attaches to the stability of the Former British colony.
Speaking to reporters about the results of that plenary, the high representative of the Chinese Parliament Shen Chunyao has said that Hong Kong has "of course" been an important issue at the meeting, in which some 370 officials participated, including Xi.
The plenary stressed that "one country" is the basis of "two systems" and that the Chinese Communist Party will support the Governments of the Special Administrative Regions – which also include Macao – to redouble their efforts in the matter of implementing the law, according to Shen, head of the Fundamental Law Commission of the Permanent Commission of Parliament.
The Plenary decided to "perfect" the system of appointment and replacement of the leaders of Hong Kong and Macao and other high-ranking officials there, Shen explained, without providing further details.
The four chief executives of Hong Kong have been elected by a small electoral committee full of supporters from Beijing. The Basic Law establishes that the "ultimate objective" is the selection of the Executive through "universal suffrage following proposals from a broadly representative appointments committee."
"In summary, we will further improve the central government system of exercising full administrative power over the Special Administrative Regions in accordance with the Constitution and the Basic Law," he explained.
Shen has assured that the Chinese Communist Party "will firmly safeguard national sovereignty, security and development interests, safeguard the long-term prosperity and stability of Hong Kong and Macao, and will not tolerate any challenge to the end result of the beginning 'a country , two systems'.