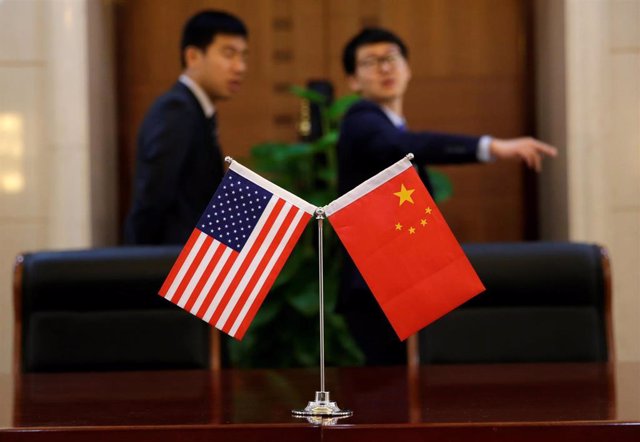 Flags of China and the USA. – REUTERS / JASON LEE – Archive
SHANGHÁI (CHINA), Dec. 15 (Reuters / EP) –
China has officially suspended the additional tariffs it planned to impose on the United States since Sunday after both countries reached an agreement on Friday to resolve their trade disputes, as confirmed by the Customs Tariffs Commission of the Chinese State Council.
The tariffs were intended for products ranging from corn or wheat to vehicles manufactured in the United States. However, other Chinese tariffs already implemented have been left in effect.
"China hopes, on the basis of equality and mutual respect, to work with the United States to adequately resolve the central concerns of each one and promote the stable development of economic and trade relations between the United States and China," said the Government. Chinese in a statement.
Beijing and Washington reached an agreement on Friday for the first phase of a trade agreement that includes the US commitment to withdraw additional tariffs imposed on Chinese exports, while the Asian giant will increase its imports of US energy products and agricles.
The Chinese officials, however, declined to offer details about the scope of the agreement between the two powers, as well as the tariffs that would be withdrawn, noting that the pact is still "under review", so the data will be given to Know later.
According to Beijing, the text of the agreement will include nine chapters, including the preface, intellectual property rights, technology transfers, agricultural products and food, financial services, exchange rates and transparency, commercial expansion and dispute resolution.
Among the different aspects that the agreement reached would cover, China is committed to increasing its energy imports from the United States, as well as the purchase of agricultural and pharmaceutical products.
The US commercial authority also indicated that the agreement includes the Chinese commitment to carry out "substantial additional purchases of US goods and services over the next few years."
In this sense, the agreement contemplates the establishment of a dispute resolution system that guarantees its effective implementation and compliance.
For its part, the United States has pledged to modify the tariff regime imposed on China in response to Beijing's intellectual property, innovation and technology transfer practices, although it will maintain the 25 percent tax on about 250,000 million dollars (224,793 million euros) in Chinese imports and a tariff of 7.5 percent over another 120,000 million dollars (107,900 million euros) in products imported from the Asian giant.
In this way, the United States will not implement the application planned for this Sunday of the additional 15 percent tariff on Chinese products worth about 160,000 million dollars (144,410 million euros).