China confirms that the thousand dead have been overcome by the outbreak of the new coronavirus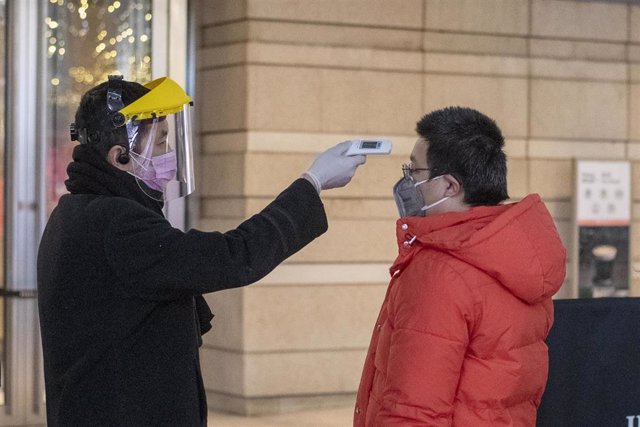 A security member takes a citizen's temperature before entering a public building in Shanghai. – Dave Tacon
BEIJING, Feb. 11 (Xinhua / EP) –
The Ministry of Health of China has confirmed on Tuesday that they have surpassed the thousand dead by the outbreak of the new coronavirus, reaching the figure of 1,016 dead.
Health authorities have added that 42,638 cases of infected people have been confirmed in 31 Chinese provinces and that, of the 108 new deaths recorded on Monday, 103 occurred in the central province of Hubei, where the town of Wuhan is located, epicenter of contagion, one in Beijing and the rest in Tianjin (north), Heilongjiang (northeast), Anhui (east) and Henan (center).
As for the number of people who have been discharged, the health authorities of the Asian giant have recorded that 3,996 people have returned to their homes after recovering.
For its part, the World Health Organization (WHO) and China will organize a working group to assess the epidemic of the new coronavirus, as well as prevention measures to prevent further infections.
Among the deceased are two foreign citizens. The Chinese Foreign Ministry reported this weekend that 27 citizens from other countries had been diagnosed with the virus, of which 3 have been discharged and the other 22 remain isolated in several hospitals in the region.
On the other hand, Hong Kong has 36 confirmed cases on Monday, in addition to one death, Taiwan 18 and Macao 10. A patient in Macao and one more in Taiwan have been discharged this Sunday after recovering.
Although the epicenter of the coronavirus is in Wuhan, cases have been detected in other countries in Southeast Asia, Europe and America. WHO, which declared a global health emergency a week ago, has asked the international community to redouble its efforts.
Common signs of infection include respiratory symptoms, fever, cough and shortness of breath. In more severe cases, the infection can cause pneumonia, severe acute respiratory syndrome, kidney failure and even death.
The data of deaths due to the outbreak of the new coronavirus exceed those recorded due to the outbreak of SARS or acute respiratory syndrome that was first detected in 2002. In 2003, more than 600 people had died in China because of this virus, while the global figure reached 765 deceased.