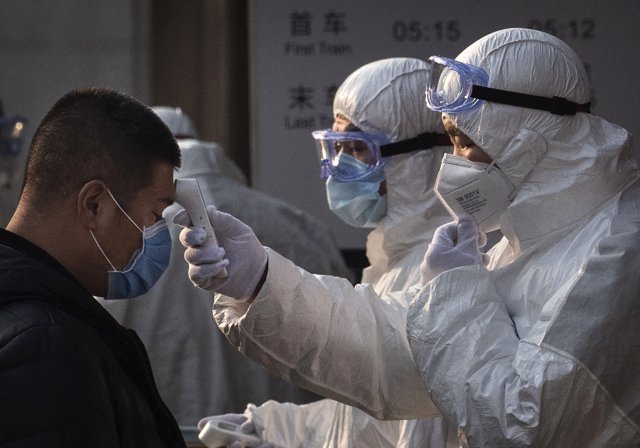 Health workers inspect a Chinese citizen after the outbreak of coronavirus – GETTY
MADRID, Jan. 26 (EUROPE PRESS) –
Chinese Health Minister Ma Xiaowei has confirmed this Sunday that the new coronavirus that causes the outbreak of pneumonia that has killed 56 people and affected 2,070 is contagious even before showing symptoms, which could greatly hinder control work to prevent the spread of pneumonia.
China confirms that coronavirus is contagious before showing symptoms
This would radically differentiate the new SARS virus or acute and severe respiratory syndrome that emerged in China in 2002 and resulted in the death of more than 700 people worldwide with a mortality rate after infection of between 13 and 19 per hundred. The SARS was not asymptomatic, so it was easier to locate potential infected.
In addition, the National Health Commission headed by Ma has indicated that the incubation period is 14 days and stressed that the virus's capacity to spread is strengthening.
Ma himself has recognized the "limited" understanding of the virus by the authorities and therefore they do not know the potential extent of the disease or the possible risks of mutation. "The outbreak will remain active for a certain time," he said, according to the newspaper 'South China Morning Post'.
Ma also announced at the press conference that 1,350 additional doctors have already arrived in the city of Wuhan, the epicenter of the disease, and another thousand are arriving, although he has acknowledged a shortage of medical supplies that are trying to alleviate "anyway possible. "
The Deputy Minister of Industry and Information Technology, Wang Jiangping, has indicated in the same press conference that they are trying several ways, both inside and outside, to obtain the necessary supplies.
In countries such as the United States, symptom control is the cornerstone to prevent the entry of those affected, has warned an advisor to the Centers for Disease Control and Prevention, William Schaffner. "This changes everything," Schaffner said in statements to CNN.
"When I heard it, I thought, 'My God, this is worse than we thought.' It means that the infection is much more contagious than we thought at the beginning," said Schaffner, an expert professor of infectious diseases at the Medical Center of Vanderbilt University. "If Dr. Ma is right, we will have to review our strategy. That is clear," he explained.
So far the United States has confirmed three cases in the states of Washington, California and Illinois and has also extended to Japan, France or Canada.