Chilean authorities estimate that 3.7 million people participated in one of the protests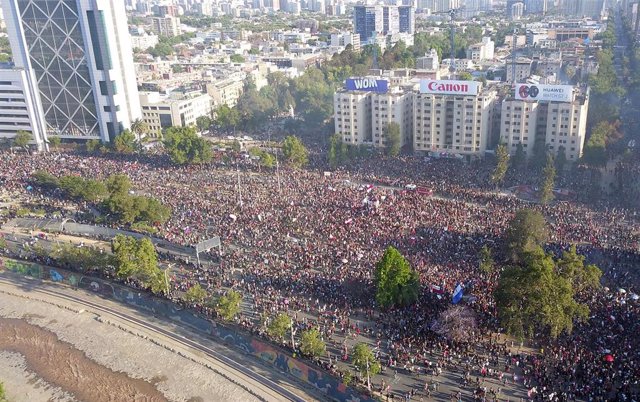 Demonstration in Plaza Italia, Santiago (Chile) – SAMIR VIVEROS / AGENCIAUNO – Archive
SANTIAGO, 13 Nov. –
Some 3.7 million people have participated in one of the demonstrations recorded in Chile since October 18, when protests broke out against the Government of Sebastián Piñera, according to an estimate from Carabineros updated until last Sunday.
The metropolitan region of Santiago is the one that concentrated the most protesters, with a total of 2.3 million. On October 25 alone, around 1.2 million people were concentrated in the center of the capital, at the height of these mobilizations against the Executive, according to the newspaper 'La Tercera'.
Piñera has undertaken a series of reforms since protests broke out, triggered by the rise in the price of the metro in Santiago, but social mobilization has continued in November. In the first ten days of the month almost half a million people have taken to the streets of the country.
The Chileans were called on Monday to a new day of protests, with a strike that resulted in 398 violent incidents, according to a police spokesman, Enrique Monras, who has confirmed at least one deceased by outrage. The authorities have also reported 19 attacks against security forces headquarters and 95 looting.
The president urged on Tuesday "all political forces and social organizations" to establish "three urgent national agreements", to agree on "peace and against violence", for "justice"; and by "a new Constitution" that is ratified in referendum.