Child labor, an important factor in the supply chains of Asia and Latin America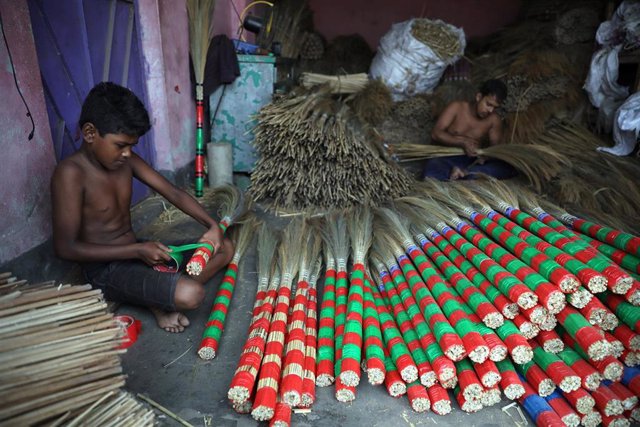 Workers make traditional pieces in Bangladesh – REUTERS / MOHAMMAD PONIR HOSSAIN – Archive
A report estimates for the first time the prevalence of some jobs involving 152 million children worldwide
MADRID, 12 Nov. –
Child labor is present in global supply chains from its lowest levels and its prevalence exceeds 20 percent in regions such as Southeast Asia or Latin America, according to a report prepared by several organizations and for the first time estimates the weight that They have children in a market that transcends borders.
152 million children work in the world and there are 25 million children and adults victims of forced labor, according to data from the International Labor Organization (ILO), which together with the United Nations Children's Fund (UNICEF), the Organization International for Migration (IOM) and the Organization for Economic Cooperation and Development (OECD) has now focused on the supply chain.
These organizations recognize that it is "very difficult" to determine how many minors are involved in this line that goes from production to sale and that usually crosses borders, but they have shared the data they have to issue at least one estimate of the child labor in these chains.
Thus, they have determined that the eastern and southeastern part of Asia has the highest prevalence of child labor, with 26 percent. Agriculture, the textile sector, commerce, mining and transport are the sectors that present the greatest risk in this region.
In Latin America and the Caribbean, where the rate reaches 22 percent, the most problematic sectors would be agriculture, commerce, hospitality, transport and textiles, according to the report, which includes this region as second in the list .
In the southern and central parts of Asia and in sub-Saharan Africa, the prevalence of child labor in supply chains is around 12 percent, while in North Africa and Western Asia it is 9 percent. The study does not include, due to lack of data, Europe, North America and Oceania.
Experts attribute the presence of child labor, forced labor and trafficking in persons in global supply chains to a mix between legislative loopholes and non-compliance with regulations; socio-economic pressures on workers; and business behavior that still persists in certain environments.
ILO Director-General Guy Ryder has stressed that the report shows the "urgent need" to take measures to end the abuses that are committed along the chain, which goes first to examine the causes underlying exploitation, especially in the markets and sectors that operate within the so-called informal economy.
The OECD Secretary General, Angel Gurría, has called on governments to "increase and accelerate efforts to ensure that companies respect Human Rights in their operations and throughout the supply chain." In this regard, he has claimed "responsible business."
For the Director General of IOM, António Vitorino, the data presented in the report "make it clear that work against human trafficking in global supply chains will not work if they do not transcend immediate suppliers," which happens, for example. for also examining the work of other actors working in activities such as mineral extraction or agriculture.
The development of childhood is at stake, as the main person in charge of UNICEF, Henrietta Fore, recalled, "child labor can have negative consequences for life for physical, mental and social development", since it leaves these minors "without the possibility of playing and learning".
"We need to address the causes that push children to work, such as poverty and violence. We also need concrete solutions to ensure that families have alternative sources of income and that children have access to quality education and protective services," Fore has claimed.