Cheddar Gorge abseiling team's 'extreme spring clean'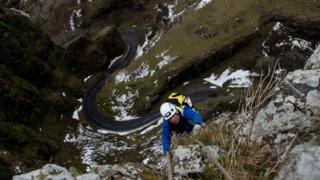 A team of abseilers has been roped in to give the Cheddar Gorge an "extreme spring clean".
The 400ft-deep, three-mile long ravine – England's largest- need to be cleared of loose rocks and other hazards.
A team of 15 "rope access technicians", suspended up to 121m off the ground, will spend six weeks ridding the Somerset landmark of unwanted detritus.
The Longleat Estate, which manages the gorge, said about 37,500 sq m of rock face would be cleared.
Members of the team will also work above the B3135, which runs through the chasm, to stabilise the rock face with mesh and wire.
They will also be inserting monitoring studs into parts of the rock to try and track any rock movement.
Leon Troake, Cheddar Gorge's operations manager, said the rock can now be maintained and managed "in situ" rather than "having to prise large chunks off.
"In the past we would have had to close the entire gorge in order for the work to be undertaken," he said.
"This remedial work means we can also begin to remove invasive species including ivy, red valerian and ash trees which will provide more growing space for endemic species like the Cheddar pink which is only found here."
The work is due to be complete by Easter.