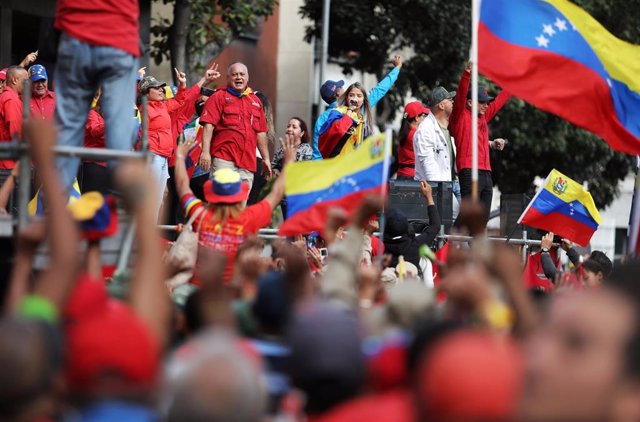 'Chavista' demonstration in Caracas – REUTERS / STRINGER.
MADRID, Nov. 16 (EUROPE PRESS) –
Thousands of people have demonstrated on Saturday in Caracas called by the ruling party in defense of the Bolivarian revolution and to denounce the "fascism" in Bolivia that has led to Evo Morales leaving power.
Chavismo takes to the streets in support of the Bolivarian revolution and against "fascism" in Bolivia
"This town has taken to the streets as it came out on April 12, 13, 14, 2002 and today goes out to defend the legacy of Commander (Hugo) Chavez, in support of President Nicolás Maduro and President Evo Morales," The first vice president of the United Socialist Party of Venezuela (PSUV), Diosdado Cabello, in the center of Caracas, according to the Venezuelan news agency AVN.
Cabello thus referred to the attempted coup d'etat of 2002 against the then president Hugo Chávez and which failed in the midst of important mobilizations and the Army's support for the president.
The official leader has stressed that Venezuela will not surrender despite the "constant attacks" of the Venezuelan right "in complicity with the United States" to destabilize the Government and undermine the democratic system.
"Every time the country is in danger from internal and external threats, our people begin to mobilize throughout Venezuela," said Cabello.
Also on Saturday, it has been reported that the advances in the open dialogue between the ruling party and the minority opposition will allow the presentation of a rule in the National Assembly for the formation of a new National Electoral Council (CNE).
Specifically, it was after the approval of a nomination commission composed of eleven deputies from all parliamentary groups.
"The Bloque de la Patria is going to prepare a proposal for a schedule and they are going to elaborate its proposal. On Tuesday at 10 am in the Federal Legislative Palace we go to the second meeting to agree on that schedule," explained the deputy William Gil, according to the Venezuelan television network Globovisión.
The purpose is "to allow us to set the date for the appeal to the ten members of civil society and then the rest of the steps to install the full commission." The preliminary commission will meet again "to evaluate the proposals of both banks and agree on the final schedule," to continue with the steps dictated by Venezuelan legislation on electoral matters.