Chantal Joffe: Painting pregnancy and parenthood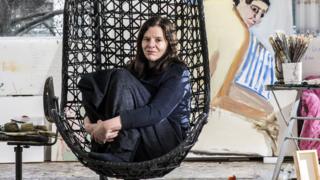 From pregnancy to birth, growing up to growing old, Chantal Joffe's intimate portraits capture the evolving stages of life and (mostly) female relationships.
Many of the London-based artist's highly personal paintings capture her and her daughter at pivotal points in their lives.
Around 50 of her works have gone on show in a major exhibition titled Personal Feeling Is The Main Thing at The Lowry arts centre in Salford.
Joffe painted self-portraits when she was pregnant in 2003 and '04. "I'd always done self-portraits periodically, maybe once a year, as a way to assess where I was in time and take stock, I suppose," she says.
"Being pregnant, it was like, 'Wow, how brilliant to paint yourself changing so much.' As somebody who always loved to paint the nude and the figure, with yourself you can be absolutely ruthless and honest, so it was absolutely thrilling to have this different body to paint."
Joffe has also painted her pregnant friends. "It's visually fascinating – people pregnant are quite gripping as a subject, because it's so extreme. A tornado's about to hit them but they've got this incredible calm sweetness."
Joffe has been heavily influenced by German artist Paula Modersohn-Becker, who painted what is thought to be the first naked self-portrait by a female artist (above) in 1906.
Modersohn-Becker wasn't actually pregnant at the time. "She's just sort of trying it out as an idea, what it would be like to be pregnant," Joffe says.
"She looks out at the viewer and says, 'What's it gonna be like? Could it work?' She's painting her way into it. To experience it, she paints it, which is such a brilliant conceit."
Sadly, Modersohn-Becker died the following year, shortly after becoming a mother. Several of her works are included in the Lowry exhibition.
The first portrait of Joffe's daughter Esme shows her as a newborn – "very, very new, when their face is all puffy and bloated".
Joffe actually painted this picture from a photo about a month after giving birth. "I wasn't really in a fit state to paint her the day she was born," she laughs.
The artist says she wanted to paint the new arrival partly because she was hardly able to take her in at the time.
"I was so drugged up and freaked out!" she says. "They tried to hand her to me and my arms were shaking because I'd had an epidural. I suppose it [painting] was a way of experiencing. In a way, I don't feel like I experience anything unless I paint it."
Joffe has documented Esme's childhood by painting portraits all along the way. This one shows Esme, second left, with her friends in 2004.
"They'd just had the ears pierced, her and her friend," the artist recalls. "So it felt like a very definitive moment in a funny way, all about power relations and girls.
"They also look so grown up suddenly. The lollipop looks like a cigarette."
This one, painted three years later, shows the artist and her 13-year-old daughter at what Joffe says was another pivotal time.
"It was me thinking about the growing separation and the change – the mother bows down in a funny sort of way, and the child appears.
"But the mum is still this very protective whale-like figure and the child darts out from behind her, with curiosity and excitement."
Both are getting older. "As their skin grows lovelier, your skin is less lovely," Joffe says. "They're so new and alive at the very moment you get more tired.
"It's not meant to be a tragic painting, though, it's just meant to be a description, I suppose. And if I can paint it, I can do it. You have to let them go. So it's about that as well."
This one is from the same series. "It's almost the aftermath," the artist says, and shows "the utter fondness and love and just letting go of it all somehow".
Joffe's fascinated by transitions from one stage of life to the next. "I'm probably too aware of it," she admits.
"I remember my daughter's primary school, as you walk up, you see them ageing, from toddler to big child. I was aware of that when she was three. I'm over-aware of it."
As well as looking at the generation below, Joffe has turned her gaze to the generation above.
"I've always found it very hard to paint my mum," she says. "It's very hard look at them hard and think about how old they are – all those ideas of them ageing are always terrible, somehow.
"But my mum has quite bad sight now – which is a hard thing to say because it became easier to paint her because she couldn't then see the paintings. It's complicated.
"It's the only painting I've ever made of her that felt anything like her, and it does feel like her."
The 16-year-old son of Joffe's best friend was a rare male sitter earlier this year.
"It's much easier to imagine my way into women," she says. "I have got lots of sisters and mum and friends and my daughter who are women, but lately I find men quite interesting."
Faun still had an endearing innocence. "He was wonderful to paint – he was such a funny mixture of embarrassed and not. He was a bit like a newborn in a different way."
Chantal Joffe: Personal Feeling Is the Main Thing is at The Lowry in Salford until 2 September.
---
Follow us on Facebook, on Twitter @BBCNewsEnts, or on Instagram at bbcnewsents. If you have a story suggestion email entertainment.news@bbc.co.uk.