Champions League: Tottenham always miss something – Juventus' Giorgio Chiellini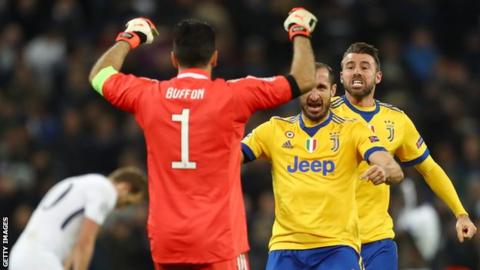 Juventus defender Giorgio Chiellini says he knew his team would beat Tottenham because Spurs "always miss something at the end".
The Italian giants came from behind to win 2-1 in the second leg of their last-16 Champions League tie at Wembley on Wednesday for a 4-3 aggregate win.
"It's the history of Tottenham," added the 33-year-old Italy international.
"We knew Tottenham have fantastic players and are an amazing side – but they concede many chances every game."
After a 2-2 draw in Italy, Son Heung-min put Spurs 3-2 ahead on aggregate before two goals in three second-half minutes – from Gonzalo Higuain and Paulo Dybala – took Juventus, runners-up in 2016-17, into the last eight.
Tottenham had late chances, including Harry Kane heading against the post in the 90th minute, but Chiellini excelled as Juve advanced.
"For us it is an amazing night," added the centre-back. "It was very difficult and we knew before this match and also before the first game. But we believed it and believed in the win.
"Tottenham have always created many chances to score – but they miss always something at the end.
"We believe in the history – we saw it yesterday between Paris and Real. The history is important, with experience it is important and we used our skill."
Despite the defeat, Tottenham boss Mauricio Pochettino said he was "proud" of his side.
"In less than three minutes we conceded two goals – two big mistakes – and that is why we are out," said the Argentine.
"In both legs we deserved more. We played fantastic football until that first goal and we dominated."
Tottenham are fourth in the Premier League and face Swansea in the quarter-finals of the FA Cup and Pochettino expects his team to learn from the experience.
"We are very disappointed, but it is part of growing. We will keep going," he added.
"We created a lot of chances, it is clear we deserved a lot more. In football it is not about deserving, you have to score goals and not concede.
"It was tough but very positive for the future. You need this type of game and experience to build you as a player to compete at this level.
"They only came to our goal two or three times – not much – but they have quality so if you make a mistake they will score."
'Spurs will win trophies if they keep the core of the team' – analysis
Former Premier League striker Chris Sutton on BBC Radio 5 live
Over the course of the two games – but for 15-20 minutes – Tottenham dominated a big European side.
They can count themselves unfortunate, but they will have to learn lessons from it.
The most important thing for Spurs is not to lose their heads. It's a disappointing defeat but it's important that there is no wild reaction. Keep this group together. They are building something special and it will come.
Keep Kane, keep Alli, and keep the core of this team, and I'm sure they will win a trophy.