Champions League final: Liverpool v Real Madrid resale ticket prices 'ridiculous'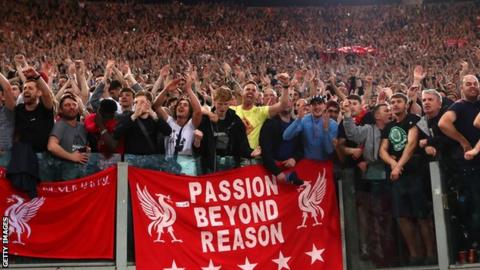 Fans seeking tickets for Liverpool's Champions League final against Real Madrid in Ukraine are being asked to pay "ridiculous" prices online.
Some are on sale for more than 20 times face value, with one ticket on a resale website priced at more than £14,000.
Liverpool sold out their allocation of 16,626 tickets for Saturday's match.
"The situation is ridiculous. Third parties have seen the chance to make a profit," said Reds fan Neil Atkinson, host of the Anfield Wrap podcast.
Capacity for the match at the Olympic Stadium in Kiev will be 63,000.
"A lot of people who don't support either club will end up with tickets and look at it as an opportunity to make money," Atkinson told BBC Sport.
Resale website Ticketbis has a range of tickets on offer for the match – with the cheapest in the Real Madrid section at £410 but a lowest price of £1,337 for the Liverpool area.
These are tickets in category four, which were available for £61 during the clubs' official ticket sales.
The website indicates that several tickets in a neutral section sold for more than £1,200 each.
One ticket in category two, where the initial fee was £280, was on sale for £14,723.39.
Liverpool estimate one in three fans were successful in the club's ballot for tickets. They have urged supporters not to buy from touts or travel to the match without tickets.
The general resale of football tickets was banned in Britain in 1994 because of safety fears over the possibility of rival fans mingling together.
Only outlets officially authorised by clubs are allowed to offer unwanted seats, but overseas firms can avoid UK consumer law.
Ticketbis, a subsidiary of Stubhub based in Spain, says in its promotional material that "more than 300,000 clients rely on us for their tickets".
A message on its website says it "recently sold" more than 120 Champions League final tickets. Ticketbis and Uefa, European football's governing body, have been approached by the BBC for comment.
Other websites selling tickets at inflated prices include Ticketgum, where tickets in category three, sold by the clubs for £140, were priced at more than £1,400.
Fans with tickets have faced soaring airfares and inflated hotel charges. Return flights are going for as much as £1,400, while Kiev residents have offered free accommodation for visiting fans after local hotels dramatically increased their prices.
"Whether it's transport, accommodation or tickets, people are going to exploit the desire of supporters to be there," said Atkinson.
Liverpool reached the final with a 7-6 aggregate victory over Roma in the semi-finals.
How the tickets were allocated
A total of 33,252 given to the finalists
6,700 for worldwide supporters who could apply via Uefa's website
Remaining 23,000 consist of hospitality, rights holders, commercial
Face value cost
Liverpool sold their allocation at the following prices
Category one: £394 (£315 restricted view) 6% of tickets
Category two: £280 (£220) 27%
Category three: £140 (£109) 51%
Category four: £61 (£48) 16%