Champions League final: Liverpool fans' anger after Kiev flights cancelled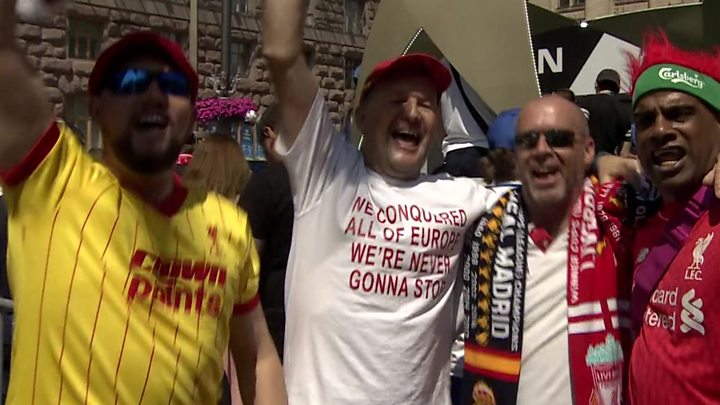 Liverpool fans have spoken of their anger after their flights to the Champions League final were cancelled.
Operator Worldchoice Sports said it could not secure landing slots at Kiev's Boryspil Airport for three planes but it said it had secured an extra last minute three-night trip.
Disappointed supporters had paid up to £2,000 for the flights to Ukraine.
Fan Chris Bolland said he was "disgusted" over the fiasco which means he now cannot get to the final.
Liverpool play Real Madrid on Saturday in the Ukrainian capital in their first Champions League final in 11 years.
The Merseyside club said up to 1,000 fans had been affected by the flights problems.
Chris Bolland, who has supported Liverpool for 50 years, paid £2,000 to Worldchoice for a flight and ticket.
But his flight has been cancelled and he will now have to watch the game at home on the TV.
He told the BBC: "I am gutted, to say the least. I am absolutely disgusted and there is nothing I can do about it.
"I will now have to watch it with my dear wife – but that's not a problem as she's a big Liverpool fan as well."
Ironically Mr Bolland had been in Poland, which shares a border with Ukraine, on a business trip and to came home to catch the Worldchoice flight.
Asif Badat, 32, from Leeds, is also stranded despite having match tickets.
He said: "We were being given assurances about our tickets and then suddenly the flights were cancelled.
"I'm now considering flying to Romania and driving 10 hours from there."
Liverpool's head of club and supporter liaison has criticised Uefa for holding the final in Kiev.
Tony Barrett said: "The decision to hold the final at a location which is so difficult and so extraordinarily expensive to get to is one that needs explaining by those who made it.
"To every Liverpool fan who is having a nightmare – and I use the word nightmare deliberately, not loosely – arranging travel to Kiev I can only apologise.
"What should be one of the most exciting times of your lives is currently anything but and that, to me, is inexcusable."
Fans who have secured a way of making the final have complained of the complicated route they are having to take.
Ivan Mulla, 46, from Liverpool, said: "It's been a nightmare.
"I'm flying from Leeds to Rome then from Rome to Kiev.
"The return is from Kiev to Ankara and then Ankara to Antalya, then Antalya to Leeds."
In its statement, Widnes-based Worldchoice Sports said it would start to issue refunds.
However, it has now secured one additional flight which is due to leave later.
On Thursday, Liverpool mayor Joe Anderson intervened and tried to secure extra landing slots in Kiev.
The mayor tweeted that he was "frustrated and angry" for the fans.
Mr Anderson said he had negotiated an agreement with Kiev mayor Vitali Klitschko – a former world heavyweight boxing champion – in a series of phone calls.
Worldchoice Sports' website said the firm had "worked extremely hard over the last 48 hours trying to resolve these issues".
"We have exhausted all avenues to try and get landing slots. We have applied for slots in the correct manner and timeframe with the authorities."