Champions League and Europa League: Huge increase in prize money next season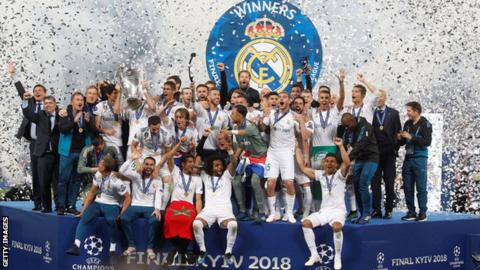 Revenues for competing in the Champions League, Europa League and Uefa Super Cup will see a huge increase of £787m next season, Uefa have announced.
Last season, clubs were given a share of £2.06bn, but that figure has now jumped to £2.84bn.
However, Uefa said £457m will be deduced to pay for organisational costs and solidarity payments.
Real Madrid face city rivals Atletico Madrid in the Uefa Super Cup in August, which will be played in Estonia.
Real beat Liverpool 3-1 in the Champions League final, while Atletico defeated Marseille 3-0 to claim the Europa League title.
Both clubs will receive £3.06m for competing in the match, while the winner will collect an additional £870,000.
How is the Champions League fund allocated?
A total of £1.71bn will be divided into four categories:
Starting fee: Each of the 32 clubs that qualify for the group stage can expect to receive an allocation of £13.34m each.
Fixed amounts: Group stage performance bonuses will be paid for each match – £2.36m for a win, £787,000 for draw.
Clubs will also receive £8.31m for reaching the round of 16, £9.19m for the quarter-finals, £10.5m for the semi-finals and £13.12m for reaching the final. The winner will receive an additional £3.5m
Coefficient ranking: Based over a 10-year period, the new ranking list will see the lowest group-stage team receive a £970,000 share and same amount will be added on to each position.
Market pool: Clubs will also receive a share of £255.5m, which is distributed in accordance with the value of each national television market.
Clubs competing in the Europa League next season will receive a share of £490m, an increase from £350m last season.