Central Michigan University 'student kills parents in dorm'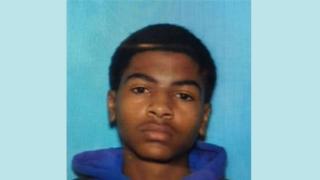 Police in the US state of Michigan have arrested a student suspected of shooting dead his parents when they came to pick him up for spring break.
James Eric Davis Jr is suspected of gunning down his mother and father in his dormitory a day after he went to hospital for a drug-related issue.
The victims are Diva Davis, 47, and James Eric Davis Sr, 48, according to television station WILX.
They were shot on the fourth floor of Campbell Hall, according to police.
James Eric Davis was picked up after being spotted by a passenger on a train as it passed through the north end of the campus at Central Michigan University, officials said.
An Illinois state lawmaker said on Twitter that the family permanently resided in the Chicago area, where Mr Davis Sr had served as a policeman until his death.
Skip Twitter post by @RepChrisWelch
The shooting at Central Michigan University today strikes close to home. A sad day in Bellwood and across the 7th District. My sincerest condolences go out to the family of Bellwood Police Officer James Davis Sr. and his wife who were shot and killed this morning. May they RIP. pic.twitter.com/B0cykAxFVv

— Emanuel Chris Welch (@RepChrisWelch) March 2, 2018
End of Twitter post by @RepChrisWelch
The 20,000-student college – which is located two hours northwest of Detroit – confirmed the fatalities on Twitter on Friday morning.
The school is a gun-free zone and does not permit weapons on campus.
Skip Twitter post by @CMUniversity
CMU police confirm two individuals were fatally shot at Campbell Hall on campus this morning. The deceased are not students and police believe the situation started from a domestic situation. There are no additional injuries; suspect is still at large: https://t.co/AxvPn3N0s0

— Central Michigan U. (@CMUniversity) March 2, 2018
End of Twitter post by @CMUniversity
Police said they were in contact with Mr Davis, a 19-year-old second-year student, late on Thursday when he was taken to a nearby hospital for an alleged drug-related incident.
Mr Davis is believed to have left the hospital before going to campus where the shooting took place.
Cameras captured the suspect exiting the north side of the residence hall and running along the railroad, police Lt Larry Klaus said.
He was wearing a blue jumper at the time of the shooting but articles of clothing were found strewn along the railroad tracks, according to police.