Celine Dookhran trial: Murder accused says alleged victim is killer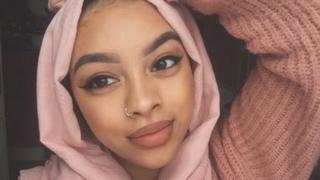 A man accused of raping and killing his niece claims that his other alleged victim is the murderer, a court has heard.
Mujahid Arshid, 33, of no fixed address, denies raping and attempting to kill the second woman.
The witness, who cannot be named for legal reasons, rejected the defence case that she killed 20-year-old Celine Dookhran.
Mr Arshid also denies the rape and murder of Ms Dookhran.
Prosecutors allege that he kidnapped both woman – who were forcibly bound and gagged – in July last year.
He is then accused of taking them to an empty house in Kingston, south London, where he raped them in turn, murdered Ms Dookhran and left her body in a large freezer, and tried to murder the second woman by cutting her throat.
It is claimed he was assisted in the initial kidnap by 28-year-old Vincent Tappu, who denies the allegation.
Jurors previously heard that the second woman escaped death by convincing Mr Arshid they could have a relationship.
During cross examination by Judy Khan QC, representing Mr Arshid, the woman rejected the defence case that there was no kidnap, no sexual assaults, and that the woman were "never tied or gagged".
Ms Khan suggested both women willingly travelled to the Kingston house and that, when there, the witness had consensual sex with Mr Arshid.
The defence case is that Mr Arshid also had consensual sex with Ms Dookhran, and that the surviving woman subsequently became "upset and jealous" and "started to shout abuse".
Ms Khan suggested Mr Arshid had gone outside for 15 minutes and that when he came back he found the second woman in the bathroom – "knife in hand" – standing over a bleeding Ms Dookrhan, who was lying dead in the bathtub.
'Disagree completely'
Addressing the witness, Ms Khan said her client's case is that "you were responsible for Celine's injuries" and that "you suggested that Celine be put in the freezer".
The defence barrister further alleged that the woman's own injuries were sustained during a struggle as Mr Arshid sought to protect himself.
The woman rejected the defence claims, saying "I disagree" and "I disagree completely" each time an allegation was put.
Mr Arshid is further charged with sexual assault and assault by penetration against the surviving woman.
Together with labourer Mr Tappu, of Acton, west London, he has also pleaded not guilty to the women's kidnap and false imprisonment, and possession of a firearm with intent, namely a Taser.
The trial continues.