Celia Imrie: I feel like a cat with nine lives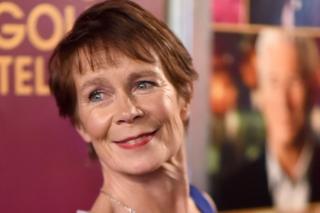 Celia Imrie calls herself The Happy Hoofer – the same name she gave to her 2011 autobiography.
On the face of it, the reasons seem clear.
For many a year, she's brought joy through her TV comedy characters, most notably of course with her collaborations alongside the late Victoria Wood.
Yet for Celia, her optimistic outlook runs much deeper. It's down to her ethos for a fulfilling life, one which strengthens with each passing day.
"I'm just grabbing life, every second and every challenge. None of us knows how long we've got," she tells BBC News.
"I'm not being dramatic but I'm not stupid either and time's running out a bit."
Her attitude has driven her on through difficult times. Two pulmonary embolisms put her under serious threat.
She was in Nice, where she has a house, at the time of the terrorist truck attack, which left 84 people dead.
And then there was the trauma of Victoria Wood's death. "It was a terrible shock. I didn't know she was ill," says Celia.
"So I grab life with fever because of the things that have happened to me.
"But I don't worry too much. Sometimes I feel like a cat with nine lives."
With verve and fearlessness is how she also approaches her still flourishing career.
Hot on the heels of The Exotic Marigold Hotel and Absolutely Fabulous films, she's now starring in Finding Your Feet. And there's a new book, Sail Away – her third in three years.
Fittingly, the message of Finding Your Feet, and her books, is firmly one of Carpe Diem [seize the day] – whatever your age.
Finding Your Feet is a light – not split-your-sides – comedy in which Celia plays the bohemian single sister Bif to Imelda Staunton's stuck-up, wealthy married Sandra.
Despite having distanced herself from Bif, Sandra falls on her doorstep on discovering her husband is having an affair.
Sandra moves in with Bif and undergoes a renaissance as she, reluctantly, enters Bif's unconventional world. It's one of spontaneity, romance, true friends – and dance.
The moves are complicated stuff and even Celia, with a background in ballet, says she found the routines tough.
Celia believes changing for the better, as with Sandra, is always possible. In fact, it's vital if the status quo is ruining your life.
"Sandra's conventional life didn't give her much joy. It only came when she left. That's a terrible realisation to make, that you've wasted so much of your time," says Celia.
"Change is difficult. People are afraid of it but I am optimistic people are becoming braver and not putting themselves in boxes.
"As Bette Davis wrote, 'never rely on someone else for your happiness'."
The film is built on camaraderie, on and off-screen. The cast including Staunton, Joanna Lumley and Timothy Spall, are actors Celia knows and loves well.
They may all be of a certain age, but it's never mentioned in Finding Your Feet, even if it touches on the issues of loneliness and illness.
"I never thought I'd get to this age. It seemed so far away," says Celia. "I thought I'd be going on coach trips and wearing white cardigans!
"But there's an awful lot open to us now and the less you talk about age the better."
Old is not a word you'd associate with Celia. She seems timeless. Casting directors certainly seem to think so and continue to give her sensual roles.
And among Bif's very likeable characteristics, lustiness ranks high, along with a courage that, at times, defies belief. Take, for example, swimming on Hampstead Heath in sub-zero mid-winter.
"Bif is great and I'm told she was written for me, which is a lovely compliment," says Celia.
"On film you're battling as a woman to still be desirable. But even that's changing. People are more accepting of being 'sexy at 60'.
"As for the swim, it was totally awful. Sooo cold. I haven't been back."
And the many doors open to older, adventurous women is central to both Finding Your Feet and Celia's three books.
Essentially mystery novels, all are rollicking, inventive reads.
The first two – Nice and Nice Work (If You Can Get It) – revolve around the cheesed off Theresa, who up sticks to the South of France. It's idyllic, yes, but, as she discovers, also a tangled web of expat intrigue.
For Sail Away, Celia has shifted the fun aboard a cross-Atlantic ship. The move was largely out of respect for the victims of the Nice attack. "It was all too sad," says Celia.
Amanda and Suzy, travelling separately but both almost unwitting passengers, find themselves caught up in world of colourful characters and weird goings-on.
Celia's stories draw on experiences in her own life, not unusually perhaps. With her bought-on-a-whim Nice home, where she does her writing, Celia knows Theresa's surroundings well.
And when travelling to the US, the Queen Mary 2 is her mode of choice. It's partly down to her hatred of heights but also the risk to her lungs.
And, adds Celia: "It's fabulous and you wouldn't believe how enormous it is. And it's not a conventional cruise. There's no stops along the way."
Moreover each protagonist bears character traits identifiably Celia's own.
Among them, the fortitude to face the unknown – and being single. (Celia has always shunned marriage and its potential "shackles".)
Celia says of her openness: "Judi Dench would be cross if she heard me saying this, but she taught me that in any performance you have to give and show parts of yourself, bear your soul."
As for the novels' entertaining supporting cast, none is uniquely recognisable as a character Celia's met in her acting career, she says. Instead, each is a pick-and-mix of several, thrown into individual bags.
But, she adds, it's the everyday people she sees and meets when out in Nice who provide the greater inspiration.
For all that, Celia says she finds writing pretty hard. It was never something she'd considered until her autobiography publisher set her the challenge. She couldn't refuse.
So, is there anything she wouldn't do?
"I'd skedaddle out of Strictly, even though I'm always dancing around my kitchen," she laughs.
"I don't have good legs or ankles. You need to, to wear those dresses.
"And I definitely wouldn't do I'm A Celebrity. I'm not going to eat those things!"
Instead, the next test on the horizon is how she'll fare when her young actor son Angus (the no-strings-attached child she had with a friend) leaves home.
"He's off to be a big movie star, I'm terribly proud," says Celia.
And then there's the ultimate challenge, one she's craved for years.
"The sound of people laughing is bliss," she says, "but I want to keep surprising people so I've just done my first horror film called Malevolent.
"At last I get to play a murderer. So everyone, watch out!"
Sail Away hits bookshelves on 22 February and Finding Your Feet will be in cinemas from 23 February.
Follow us on Facebook, on Twitter @BBCNewsEnts, or on Instagram at bbcnewsents. If you have a story suggestion email entertainment.news@bbc.co.uk.