Casper and Corey Platt-May deaths: Father found dead in Greece hotel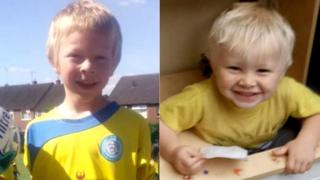 The father of two boys killed in a hit-and-run crash in Coventry has been found dead in a hotel in Greece.
Reece Platt-May's body was discovered on the island of Corfu in the early hours of Thursday. His death is not being treated as suspicious.
Casper Platt-May, two, and his brother Corey, six, were struck while on their way to a park by a speeding driver high on cocaine in February.
Robert Brown, 53, was jailed for nine years last month.
In a statement, West Midlands Police said: "Mr Platt-May was found dead in a hotel room in Corfu, Greece, during the early hours of Thursday 17 May.
"His death is not being treated as suspicious.
"His family has been notified and the matter will be passed to the coroner.
"Our condolences go to the family who have asked for the media to respect their privacy at this difficult time."
Canon Katherine Fleming led a memorial service for the boys at Coventry Cathedral on 19 March.
She told the BBC Mr Platt-May was "very natural talking about his children. He and their mum were sharing stories and bringing them back to life in those stories".
"It was obvious there was so much love there," she added.
'Haunt me'
Warwick Crown Court heard Brown had 30 previous convictions for driving without a licence or insurance.
Gwendoline Harrison, 42, of Triumph Close, Wyken, who was a passenger in the car, was sentenced to six months' imprisonment.
She had admitted a charge of assault intending to resist arrest and trying to leave the scene when she "knew two children lay dying".
Jurors heard how the boys were crossing Longfellow Road when they were hit by Brown, with Corey being thrown into the air by the impact of the collision.
In court Mr Platt-May had to read his emotional wife's statement which read: "I can't work, my heart is broken, and time will never heal this. I will miss them forever. This monstrous act will haunt me."
A request has been made to the Attorney General's office asking for Brown's sentence to be considered under the unduly lenient sentence scheme.