Carrie Hope Fletcher on battling her 'inner critic'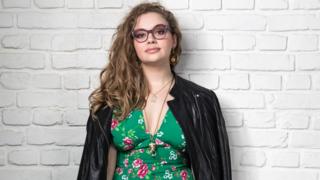 You don't meet many children who actively enjoy schoolwork.
But Carrie Hope Fletcher traces her impressive work ethic (she juggles vlogging, writing books, acting and now, recording an album) back to her early years.
"I used to give my English teacher extra homework," she laughs, "because I used to write chapters of books and sneak them in – what child does extra homework?! But I just loved writing."
Carrie is speaking to BBC News during her lunch break at the west London recording studio where she's currently recording her debut solo album.
It's striking how nervous she says she is about its release, given how long she's been in the public eye.
"I'm terrified of being on stage as myself," she explains. "Completely and utterly terrified of it."
"I'm not nervous being in front of people, it's being myself in front of people that I hate. I like having a character in front of me, but as soon as I have to make a public speech, I'm like, absolutely no way."
The 25-year-old says the album came about after one of her team suggested she record one to coincide with a series of concerts she was doing.
The result is When The Curtain Falls – an album made up of cover versions, many of them recognisable stage and screen classics such as I Dreamed A Dream.
"All the songs I absolutely love and adore, and they all have meaning behind them. It goes from a really camp Disney cover to something from Hamilton."
Carrie may not have recorded an album before, but that's just about the only area of the entertainment world she hasn't conquered.
Her vlogs regularly reach a million views. Her West End CV features stints in Les Miserables and Chitty Chitty Bang Bang. Her bibliography includes three novels so far, plus an autobiography which topped the Sunday Times bestseller list.
"I've got a bit of a fear of being bored," she explains of her multi-platform approach.
"I first picked up a camera when I was like 19 because I was unemployed and starting to get bored, and I was like 'right, what can I do?' And vlogging was just the thing that was on the rise, so I was like, 'let's give that a go', and luckily it turned out very well.
"So," she laughs, recalling some of her videos, "I now crochet, I make origami animals…"
"And then I started writing books on train journeys to and from London because I hated the fact I had 45 minutes there and 45 minutes back to fill, and I was like, I'm not going to play Candy Crush for that entire time. I like having something to show for the time that I've just spent."
Without being unfair to vloggers, it's perhaps a little surprising that Fletcher writes her books herself.
Zoella was criticised in 2014 when it came to light that she had help writing her debut novel Girl Online.
But speaking about her own books, Carrie confirms: "I write them on my own. I've been writing since I was tiny.
"And I sort of fell into the non-fiction side of it. I wrote the majority of a novel and it got rejected lots of times, I just got a bit down-hearted, so I put that to one side and decided to think of something new.
"So I started writing this blog called All I Know Now, which was just about the abundance of stupid stories and scenarios I got myself into when I was a teenager and thought I knew everything, and sort of what I've learned in hindsight. It was an extension of my YouTube channel, advice-type blogs to help someone out who might have got into the same situations I did when I was a kid."
It was her blog entries that led to her first book deal, and Carrie has now released several – a mixture of fiction and non-fiction, with the latest, also called When The Curtain Falls, due this summer.
Carrie's vlogs, meanwhile, are hugely popular – the most successful to date being an acoustic performance of Love is on the Radio with her older brother Tom [Fletcher, from McFly].
Despite living her life in the social media spotlight for the last few years, Carrie has managed to avoid some of the controversies which have plagued her peers.
Jack Maynard, Stefflon Don, Zoella and Stormzy have all got into trouble in the last year for historic tweets which have come back to haunt them.
But, given that this is the first generation who have grown up with social media, Carrie argues that such previous comments shouldn't ruin careers.
"Tweeting has become like breathing to some of us. You don't even think about it and you tweet it, and it's gone, it's archived and it's there forever.
"If all of our conversations were recorded and then played back to us in 10 years time, every single one of us has said something idiotic or offensive at some point in our lives. And that doesn't necessarily reflect who we are as people. We're human – sometimes we just say stupid things.
"And so to have that be the downfall of our entire worlds and careers is just a bit unfair, I think it's very clear who the actual harmful problematic people are in this world – I don't think we need to worry about Zoella just yet."
So, given that she shared so much of her life on social media in her late teens and early twenties, does Carrie look back at those early vlogs and cringe?
"Oh my god, yes, totally. All the vloggers I know edit their own videos as well, so it's even looking back and going, 'Oh my god, jump cut, quickly'. So it's not just the person who's on the screen, it's editing techniques and everything. But it's nice to see how far you've come."
Even though Carrie has been vlogging for several years now, she says she still battles with her own "inner critic".
"There's always that voice in the back of your head that says you're not good enough, what you're doing is terrible. And those voices are sometimes so loud that it puts a dampener on everything you do.
"But if you listen to it, you're never going to do anything. So many people let that voice dictate all the decisions that they make. They end up being so miserable because they're not letting their wants and desires win."
Carrie Hope Fletcher's When The Curtain Falls is released on 30 March.
---
Follow us on Facebook, on Twitter @BBCNewsEnts, or on Instagram at bbcnewsents. If you have a story suggestion email entertainment.news@bbc.co.uk.