Carl Frampton beats Nonito Donaire to win WBO interim featherweight title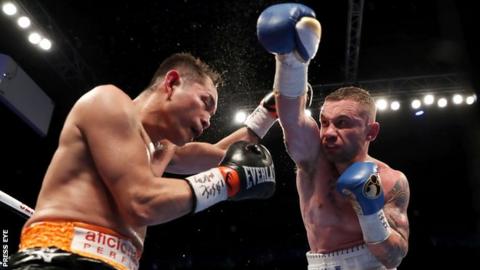 Carl Frampton earned the WBO interim featherweight belt with a classy points win over former four-weight world champion Nonito Donaire in Belfast
The Northern Irish boxer, 31, unloaded on 35-year-old Donaire in the second round which set the tone for the bout.
Frampton regularly beat the veteran to the punch to take a points lead although the Filipino did land big left hooks in the seventh and 11th rounds.
Donnaire was heavily marked at the end as Frampton won 117-111 on all cards.
Frampton's superb footwork was crucial to his win as he scored consistently and stayed out of trouble – bar Donnaire's fleeting moments of success in the seventh and penultimate rounds.
Frampton win sets up 'dream' Windsor Park fight
The Northern Irishman's win means he looks certain this summer to get his long-cherished wish of a outdoor world title fight at Windsor Park in his native city.
Mexico's WBO featherweight champion Oscar Valdez will now be required to defend his title against Frampton although it remains to be seen whether that fight will be the Belfast man's summer contest.
There is speculation that Valdez may move up in weight which could mean Frampton being declared WBO champion without having to step into the ring.
The winner of next month's all-British IBF title bout between Lee Selby and Josh Warrington could be another possible opponent for the Northern Irishman.
'Donaire hurt me in the 11th' – Frampton
Frampton admitted to have been hurt by Donaire in the 11th round as the former seven-time world champion desperately tried to earn a stoppage win.
"People say power may die towards the end but he hurt me in the 11th. But I've been hit worse," said Frampton.
"I had a simple game plan – use my jab from outside and went I got close, stay close. I started to bully him on the inside.
"I felt fresh. I looked at the ring cards and could see the rounds and in the 10th I felt great, not tired at all."
Frampton said that his excitement at the prospect of this summer's Windsor Park world title fight is "hard to describe".
"I'd love Valdez. Selby or Warrington – either of them. I'd want to fight [Leo] Santa Cruz for a third time but that's not going to happen.
"I want a world title and that's it."
'Frampton dominated 98% of fight' – Analysis
BBC summariser ex-world middleweight world champion Andy Lee
Carl Frampton was dominant for 98% of the fight.
There were 20 seconds where he was hurt and staggered. That may make the likes of Lee Selby, Josh Warrington and Oscar Valdez want to fight Frampton.
Nonito Donaire, a proud champion and great former champion refused to go quietly. Frampton really did go for the finish in the final 20 seconds.
If this is Donaire's last fight then this is a great fight to go out on.