Carillion crisis: Creditors due to hold Whitehall talks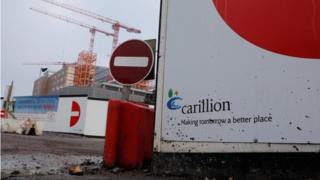 Carillion's key creditors are due to meet government officials on Monday in a last ditch bid to prevent the construction giant's collapse.
It comes as the chairman of a key group of MPs says there may need to be an inquiry into how public contracts are awarded to companies like Carillion.
Labour and unions say warnings about the firm's financial woes were ignored.
Carillion is involved in major projects like the HS2 high-speed rail line, as well as managing schools and prisons.
It has debts of £1.5bn and a £587m pensions shortfall.
Without a financial restructuring, the UK's second largest construction company, which has 43,000 staff worldwide – 20,000 in the UK – looks set to go into administration.
Accountancy firm EY has been put on notice to step in to run the company if the talks fail.
Carillion's main bank creditors – including RBS, Barclays, HSBC, Lloyds and Santander UK – are owed about £900m.
They have indicated an unwillingness to put more money into the company without direct intervention from the government.
Talks involving government officials and company bosses were held throughout the weekend. The officials are expected to meet key creditors early on Monday, the BBC has been told.
It is understood that the creditors want the government to guarantee some of Carillion's debt payments. But that would be, in effect, helping to bail out a private company.
Carillion's government projects
HS2 Building part of the high-speed rail line between London, Birmingham, Leeds and Manchester

MoD homes Maintains 50,000 homes for the Ministry of Defence

Schools Manages nearly 900 buildings nationwide

Network Rail Second largest supplier of maintenance services

Prisons Holds £200m in prison contracts
PA
Carillion's crisis has put a spotlight on how major public contracts are outsourced to private companies.
The Conservative chairman of the House of Commons Public Administration select committee said he may launch in inquiry into government procurement and contracting.
Bernard Jenkin said: "We would want to look at Carillion's relationship with Whitehall, as a test case.
"We have long been interested in projects and contracts which are 'too big to fail' and how Whitehall and the private sector must improve how they work together."
Labour said it would seek answers as to why the government continued to place contracts with Carillion despite the company issuing three profits warnings that should have flagged up problems.
"Alarm bells have been ringing for over six months about the state of Carillion's finances, so the government must come forward and answer questions on exactly what due diligence measures were undertaken," said Jon Trickett, the shadow Cabinet Office minister.
Analysis: Joe Lynam, business correspondent
Carillion's banks are owed about £900m, in the form of overdrafts as well as credit card facilities and other loans.
The banks will likely show forbearance for a few weeks if a sustainable solution to this debt can be found. But they would also like the government to get involved when it comes to managing its key public contracts.
This could mean that they would need taxpayers to act as guarantor on future payments from Carillion or that the important contracts to maintain schools and hospitals be taken back in house by Whitehall officials.
The government is in a bind. Let Carillion fail and risk thousands of job losses, or bail it out and risk propping up a private company with public money – only a few months after it paid out dividends to its shareholders.
Labour peer Lord Adonis, who last month quit as head of the National Infrastructure Commission, tweeted that the government has "got questions to answer about propping up Carillion with contracts long after its problems clear. Looks like another Grayling bailout!"
Last summer, Transport Secretary Chris Grayling awarded Carillion part of the contract to build HS2, a week after the company issued a profits warning and its chief executive had departed.
New Tory party chairman Brandon Lewis told the BBC's Andrew Marr Show on Sunday: "It [Carillion] is a going concern, it's a very commercially sensitive situation so I wouldn't comment further than to say it is a going concern.
"I would hope to see that the working capital they need will be there, working with their partners."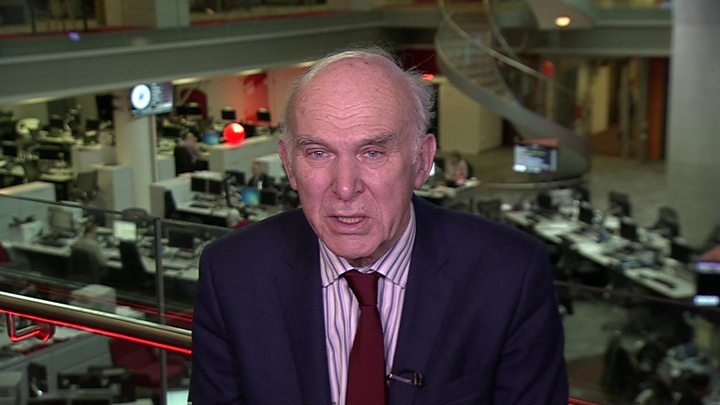 Alastair Stewart, a construction and property analyst at Stockdale Securities, said none of the solutions involving the government were "particularly palatable".
"The biggest intervention they could make is actually take a stake in the company as part of raising a large amount of capital, but they'll look back and look at the background of Lloyds and RBS," he said.
As recently as 2016, Carillion had sales of £5.2bn, and until July 2017, its market capitalisation was close to £1bn.
Since then, its share price has plummeted and it is now worth just £61m.
Carillion's problems stem, in part, from a string of risky contracts which have proved unprofitable. It also faced payment delays in the Middle East.
Carillion is the second largest supplier of maintenance services to Network Rail, and it maintains 50,000 homes for the Ministry of Defence.