Carillion collapse raises job fears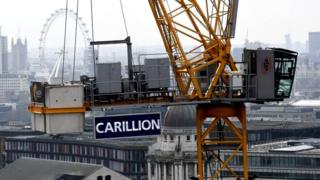 Construction giant Carillion is to go into liquidation, threatening thousands of jobs.
The move came after talks between the firm, its lenders and the government failed to reach a deal to save the UK's second biggest construction company.
Carillion ran into trouble after losing money on big contracts and running up huge debts.
Its failure means the government will have to provide funding to maintain the public services run by Carillion.
"All employees should keep coming to work, you will continue to get paid. Staff that are engaged on public sector contracts still have important work to do," said government minister David Lidington.
Carillion is involved in major projects such as the HS2 high-speed rail line, as well as managing schools and prisons.
It is the second biggest supplier of maintenance services to Network Rail, and it maintains 50,000 homes for the Ministry of Defence.
Carillion chairman Philip Green said it was a "very sad day" for the company's workers, suppliers and customers.
The company has 43,000 staff worldwide – 20,000 in the UK. It is not clear yet how those staff will be affected.
Many smaller firms who work for Carillion have contacted the BBC with concerns about whether they will be paid.
One company, which provided services for Carillion's prisons contract, told the BBC that it might fail if it is not paid the £80,000 owed to it.
It is likely that Carillion's contracts will be taken on by other firms and some could be taken back into the public sector, but it is not clear which ones or how long the process will take.
---
Analysis: Simon Jack, BBC business editor
Damned if they did, damned if they didn't?
The government refused to insure Carillion's debts, so the banks pulled the plug. If it had offered guarantees to big banks on behalf of a private company it might have been accused of nationalising losses while privatising profits.
The whole point of having private companies do public work is that they shoulder some of the risk. The truth is the government has been helping out Carillion for a while. Awarding it contracts when it knew it was in trouble raised eyebrows last year.
The government constructed the HS2 contracts so that Carillion's joint venture partners would take on the work if the company went bust – meanwhile it hoped the new contracts would be enough to make Carillion's lenders feel reassured.
Industry sources tell me that if the company hadn't been awarded new government work it would have been curtains for Carillion months ago.
---
Pension impact
Thousands of current and former staff have money in Carillion pension funds, which have deficit of almost £600m.
Those funds will now be managed by the Pension Protection Fund (PPF).
The PPF said it was aware news of the liquidation would "raise serious concerns for all people involved".
"We want to reassure members of Carillion's defined benefit pension schemes that their benefits are protected by the PPF."
Shadow business secretary Rebecca Long-Bailey said Labour wanted a full investigation into the government's dealings with Carillion: "This company issued three profit warnings in the last six months, yet despite those profit warnings the government continued to grant contracts to this company."
Carillion's government projects
HS2 Building part of the high-speed rail line between London, Birmingham, Leeds and Manchester

MoD homes Maintains 50,000 homes for the Ministry of Defence

Schools Manages nearly 900 buildings nationwide

Network Rail Second largest supplier of maintenance services

Prisons Holds £200m in prison contracts
PA
Carillion might not be a household name, but over the years it has absorbed better-known businesses, including Tarmac, Wimpey and Alfred McAlpine.
It also has a big international business, including a huge construction project in Qatar related to the 2022 FIFA World Cup.
In addition it is a big supplier of construction services to the Canadian government.
'Public service'
Bernard Jenkin, the Conservative chairman of the House of Commons Public Administration Committee, said Carillion's collapse "really shakes public confidence in the ability of the private sector to deliver public services and infrastructure".
He said there needed to be a change of "mindset" at companies that do a lot of work for the taxpayer.
"You've got to treat yourself much more as a branch of the public service, not as a private company just there to enrich the shareholders and the directors," he said.
"Ironically, Whitehall tends to do contracts with companies that it always does contracts with, because that's the safe thing to do – that's the perception. A great many small and medium-sized companies feel excluded."
Mick Cash, the general secretary of the Rail, Maritime and Transport (RMT) union, said: "This is disastrous news for the workforce and disastrous news for transport and public services in Britain.
"RMT will be demanding urgent meetings with Network Rail and the train companies today with the objective of protecting our members jobs and pensions."
Rehana Azam, national officer of the GMB union, said: "What's happening with Carillion yet again shows the perils of allowing privatisation to run rampant in our schools, our hospitals and our prisons."
---
Are you employed by Carillion? What are your concerns? You can share your experience by emailing haveyoursay@bbc.co.uk.
Please include a contact number if you are willing to speak to a BBC journalist. You can also contact us in the following ways:
WhatsApp: +44 7555 173285
Tweet: @BBC_HaveYourSay
Text an SMS or MMS to 61124 (UK) or +44 7624 800 100 (international)
or