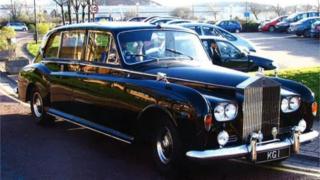 A Rolls Royce owned by Cardiff Council has been kept in storage for the last 16 years at a cost to the taxpayer, data has revealed.
The 1963 Rolls Royce Phantom was last used in an official capacity in 2002.
In the last three years the authority spent £590.85 running the vehicle, but it only left the underground car park at County Hall once a year for its MOT.
Cardiff council's Rolls Royce is driven once a year – to its MOT
Campaigners want the "unique vehicle" to be put in a museum. The council has yet to comment.
The car was last valued in February 2008 by the Rolls-Royce Enthusiasts Club at £70,000, while its number plate KG1 was said to be worth more, being valued at £100,000.
In a response to an FOI request published on the authority's website, the council said: "In the last three years we have spent £590.85 on running the vehicle, which equates to 196.67 per year as it is taken out of County Hall once a year for MOT.
"It is no longer used for fleet or council activities."
A Facebook group called Cardiff's Rolls Royce KG1 has been campaigning for the car to be put in a museum.
"It is a unique vehicle with an incredible history," a statement on the group reads.
"Tragically the car has spent the last decade sitting under tarpaulin in the underground car park of county hall."