Carabineros charges against protesters in Santiago during the first day of national strike in Chile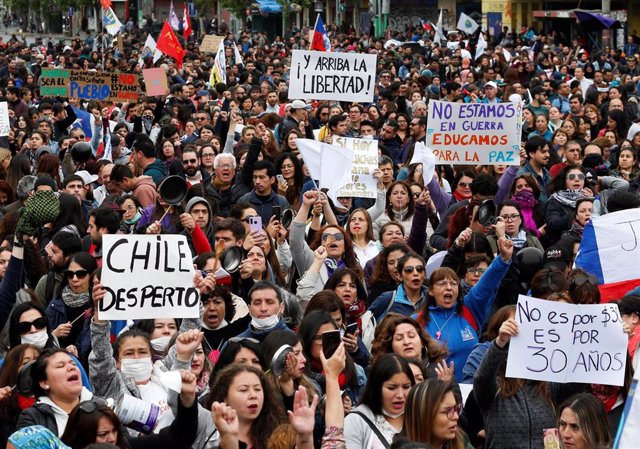 Demonstration in Valparaíso against the Government of Sebastián Piñera – REUTERS / RODRIGO GARRIDO
MADRID, Oct. 23 (EUROPE PRESS) –
The Carabineros special forces have charged against the protesters who have once again concentrated on Santiago de Chile on the occasion of the first of the two days of national strike called to protest against the Government of Sebastián Piñera over social inequality in the country .
Hundreds of protesters have marched one more day through the Chilean capital at around 11.00 (local time). The first altercations arrived shortly thereafter at Plaza Italia, in the commune of Providencia, where agents have used water cannons to disperse the crowd, according to 'La Tercera'.
It is expected that throughout the day there will be more marches for the national strike called for Wednesday and Thursday by the unions of workers and students, who have turned a deaf ear to the political dialogue and social agenda raised by Piñera.
"The strike goes !. We say it loud and clear: Enough of hikes and abuses !. For a social agenda developed alongside the social world," the Unitary Central of Workers (CUT) has been harangued on Twitter.
Interior Minister and government spokesman, Andrés Chadwick, denounced on Wednesday that "it is no coincidence that (…) has changed from a protest demonstration to one of violence." "The objective varied" with the purpose of affecting public transport and the food chain, he said.
In his opinion, he was looking for "a situation of crisis in the functioning of the city" of Santiago, so he has defended Piñera's decision to declare a state of emergency.
However, it has clarified that the Government has "no will or intention to be declaring states of emergency permanently or regularly" or to resort to a possible state of exception ".
"The president is the one who has and should have the greatest interest and commitment that the country can develop with complete normality," Chadwick said from Congress, urging political parties to join in his condemnation of "acts of violence and vandalism. ". "They hurt us all," he stressed.
At least 18 people have died and about 200 have been injured, some seriously, in the context of protests that broke out last Thursday over the fourth rise in the price of the subway ticket in a few months but have been increasing for denounce social inequality.
Piñera has apologized for the "lack of vision" about the problems of Chileans and has announced a battery of social measures, including raising the minimum wage, to remedy them.