Canadian Grand Prix: Mercedes delay new engine over 'quality issues'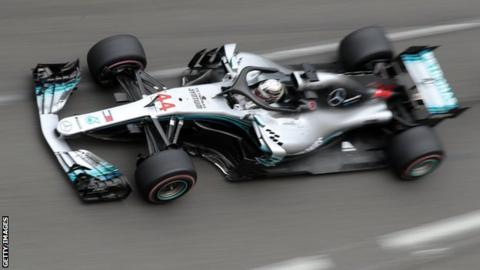 Reliability concerns have forced Mercedes to delay using a new engine that had been planned for this weekend's Canadian Grand Prix.
The world champions said "quality issues" meant their second-generation 2018 power-unit would be used at the subsequent race in France instead.
The team will now race with an engine towards the end of its life at a circuit where power is important.
But Mercedes said the decision would not affect performance or reliability.
A spokesman said the engine to be raced in Montreal was not being asked to do more miles than intended – it had originally been scheduled to be used again at the Hungarian Grand Prix at the end of July.
However, the age of the power-unit would have been less of an issue at the slower, twisty Hungaroring track.
The spokesman added that the decision would not impact the amount of time the drivers could use an engine's various power modes over the weekend.
Mercedes' decision affects all of its teams and drivers, so in addition to factory drivers Lewis Hamilton and Valtteri Bottas, Force India's Sergio Perez and Esteban Ocon and Williams' Lance Stroll and Sergey Sirotkin will also stick with the engines they have been using since the start of the season.
Rival engine manufacturers Honda and Renault are pressing ahead with planned power-unit upgrades this weekend.
However, not all the drivers from the Renault-powered Red Bull, Renault and McLaren teams may get the upgrade, depending on how taking it would affect their closeness to penalties for excessive engine usage.
Red Bull technical director Adrian Newey said earlier this week that Daniel Ricciardo would receive a grid penalty of at least 10 places this weekend as a result of new parts required following an engine problem that afflicted the Australian on his way to victory at the last race in Monaco.
Newey said the Renault upgrade was worth about 0.1 seconds a lap.
Both Toro Rosso drivers, Pierre Gasly and Brendon Hartley, will have an upgraded Honda engine.
Ferrari are also expected to use an upgraded engine for all their teams, but this has not yet been officially confirmed.