Canadian Grand Prix: Daniel Ricciardo faces grid penalty after Monaco victory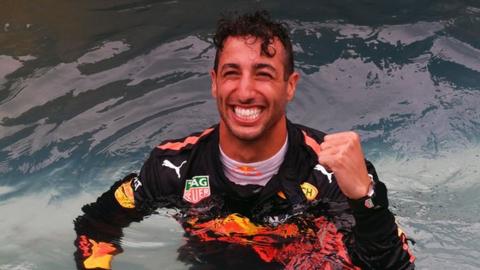 Monaco winner Daniel Ricciardo will be hit with grid penalties at this weekend's Canadian Grand Prix.
The Australian, 28, won the race despite engine problems but will now be sanctioned for using too many parts.
"He will definitely be taking some penalties in Montreal," said Red Bull's chief technical officer Adrian Newey. "We haven't heard yet just how many."
Red Bull's supplier Renault will use an upgraded engine in Montreal but Newey said it was not a major improvement.
"It's about 1% (more power), which is a tenth of a second. So it's worth having but it's not a make or break," he added.
Ricciardo's Monaco engine suffered a failure of the MGU-K, the part of the hybrid system that recovers energy from the rear axle and through which all the engine's electrical energy is deployed to the rear wheels.
Newey said: "The K is definitely a penalty."
Ricciardo has already used his two permitted MGU-Ks for the season. Taking a third will mean an automatic 10-place grid drop and Newey dismissed reports the second MGU-K might be salvageable.
"I rather doubt it, considering it caught fire and was a burnt out, charred wreck," he told Reuters. "I would be somewhat surprised at that one."
Ricciardo has also already used the maximum number of permitted energy stores (battery) and control electronics. If either of them needs to be changed, that would mean an additional five-place grid drop for each.
Newey said: "One of the things there is whether the battery was damaged or not in Monaco, so until we know that from Renault, we don't know exactly what we're facing."
Renault's reliability problems threaten to derail Ricciardo's slim title hopes.
The 28-year-old has won two races this season, the same as championship leader Lewis Hamilton of Mercedes and Ferrari's Sebastian Vettel.
Hamilton leads the championship, 14 points clear of Vettel and 38 ahead of Ricciardo, who would be in a better position had he not retired from the Bahrain race with an engine problem and then crashed out with team-mate Max Verstappen in Azerbaijan, problems neither Hamilton nor Vettel have had.
Red Bull are already on the back foot in the title battle because Mercedes and Ferrari have an extra engine power 'mode' for the final part of qualifying that Renault do not have available, which usually makes it impossible for Ricciardo and Verstappen to fight for grid positions on the first two rows.
Starting on the third row puts them at a positional and strategic disadvantage in the races that it is usually impossible to recover.
Ricciardo is also one change away from the maximum usage of the other three parts of the power-unit – the internal combustion engine, turbo and MGU-H, the part of the hybrid system that recovers energy from the turbo.
Verstappen, who is effectively out of title contention as the 20-year-old Dutchman is 75 points adrift of Hamilton, is also on his last MGU-K before taking a penalty.