California children lived in desert box 'for four years'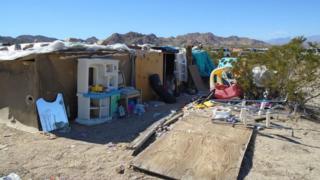 A California couple has been arrested for keeping their children in a plywood box in a desert community.
The three children of Mona Kirk, 51, and Daniel Panico, 73, were found living among their own faeces and mounds of rubbish.
The victims, ages 11, 13 and 14, were malnourished and had been living in the box for four years, according to the San Bernardino Sheriff's Department.
The couple were arrested for wilful cruelty to a child and await bail.
While checking the Joshua Tree area, police stumbled upon "a travel trailer, which appeared to be abandoned, and a large rectangular box made of plywood on the property", according to a press release.
The box was about 20ft long (6m), 4ft high and 10ft wide, according to police.
"The property had no electricity or running water. Several large holes and mounds of trash and human faeces were located throughout the property," officials said.
A San Bernardino Sheriff spokeswoman said Ms Kirk was living in the box with the children, while Mr Panico was living in the trailer, CNN reports.
Captain Trevis Newport said on Twitter the children were not being held captive but were living in unsafe conditions without running water, electricity or heat.
Skip Twitter post by @SBCSDtnewport
A clarifying Press Release will be sent out shortly. It should be known these children WERE NOT being held captive in a box; rather, the entire family was living in a very confined area, without running water, electricity or heat. PR update to follow.

— Captain Trevis Newport (@SBCSDtnewport) March 2, 2018
End of Twitter post by @SBCSDtnewport
Authorities also found 30 to 40 cats running around the property.
The parents are being held on $100,000 (£73,000) bail.