Cabinet reshuffle: Justine Greening resigns from government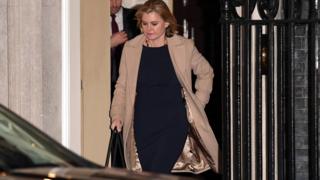 Justine Greening has resigned from the government after refusing a job as work and pensions secretary in Theresa May's cabinet reshuffle, the BBC understands.
BBC political editor Laura Kuenssberg said the PM was "disappointed" the ex-education secretary had resigned.
She has been replaced by Damian Hinds, while Esther McVey has been promoted to be the new work and pensions secretary.
Brandon Lewis is Tory chairman, Matt Hancock is culture secretary and Karen Bradley is Northern Ireland secretary.
She replaces James Brokenshire, who resigned for health reasons.
Ms Greening's resignation comes less than a month after she launched the government's social mobility strategy.
In her resignation statement she said: "Social mobility matters to me and our country more than a ministerial career.
"I'll continue to work outside of government to do everything I can to create a country for the first time that has equality of opportunity for young people wherever they are growing up."
In Mrs May's reshuffle, Mr Lewis, the immigration minister, replaces Sir Patrick McLoughlin as Conservative Party chairman, with James Cleverly as his deputy.
Justice Secretary David Lidington has been moved to the Cabinet Office.
Mr Lidington, who will deputise for Mrs May at PMQs, is succeeded by David Gauke – who is switching from work and pensions, where his responsibilities included the roll-out of universal credit.
Mr Lewis, the Great Yarmouth MP, has been a minister since 2012 and is a qualified barrister and former local councillor.
In his role as chairman he will be tasked with broadening the Conservatives' appeal after they lost their Commons majority in June's general election.
He will be assisted by Mr Cleverly, the pro-Brexit backbench MP for Braintree, and a new line-up of vice chairs with responsibility for different areas has also been announced.
The replacement for Mr Brokenshire, who is awaiting surgery for a lung condition, will be at the heart of attempts to end the political deadlock at Stormont.
Home Secretary Amber Rudd, Chancellor Philip Hammond, Brexit Secretary David Davis and Foreign Secretary Boris Johnson are staying in their jobs.
Jeremy Hunt, who had been touted for a possible move, remains in his job, which has been renamed secretary of state for health and social care.
Also not moving is Communities Secretary Sajid Javid, but the word "housing" has been added to the title of his department.
Labour said Mrs May should focus on the pressures in the NHS rather than what it said was a "desperate PR exercise".
Leader Jeremy Corbyn said: "The government's big plan for the new year is to dodge the real issues and reshuffle the pack in a pointless and lacklustre PR exercise.
"It's simply not good enough. You can't make up for nearly eight years of failure by changing the name of a department."
The reshuffle, which will continue into Tuesday, is being seen as an opportunity for Mrs May to promote more women, with female ministers only making up six of the 23 full members of her top team before it began.
She is also under pressure to preserve the balance between Brexit sceptics and enthusiasts, while showing the government has a purpose beyond leaving the EU, which critics say is monopolising ministers' time.
When prime ministers make several changes to their ministerial line-up at the same time it is known as a reshuffle. New ministers can be appointed and existing ones moved or fired.
---
What took so long in No 10?
Laura Kuenssberg, BBC political editor
The reshuffle isn't over, but we already know that it was not just the prime minister who had her say today, but her ministers too.
Jeremy Hunt, who has stayed as health secretary, and Greg Clark, who has stayed as business secretary, were both in No 10 for more than an hour this afternoon.
I understand that rather than meekly accepting whatever was being dangled before him (at least one of the likely jobs was a move to become business secretary, possibly a job swap with Greg Clark) the Health Secretary Jeremy Hunt, in fact argued his case for staying at the Department for Health and expanding his role to take on planning for the future of social care in England.
---
The changes, which will be Mrs May's third reshuffle since becoming PM in July 2016, were triggered by her sacking of Damian Green last month as first secretary of state.
Mr Green was fired from his position, a role in which he was effectively Mrs May's deputy, after making "misleading statements" to the press about pornography found on his office computer in 2008.
Mr Lidington has replaced Mr Green in the Cabinet Office but has not been made first secretary.
Downing Street confirmed he would stand in at Prime Minister's Questions and take over a "significant" number of the committees that Mr Green chaired.
Andrea Leadsom remains as Leader of the Commons, and Liz Truss will continue her role as chief secretary to the Treasury.
---
Social care and health – by Hugh Pym, BBC health editor
There have been increasing calls for an integration of health and social care in England – the two areas are already combined in Northern Ireland and Scotland.
Cuts in social care funding in England have been blamed by some as a factor in the pressures on the NHS – with delays discharging medically fit patients from hospital caused by problems finding social care provision.
The Department of Health already has responsibility for social care – but it is run by local authorities, partly paid for by council tax, and the central Whitehall grant comes through the Department for Communities and Local Government.
It is not clear whether that grant will now move across to the rebranded Department of Health and Social Care. A Government policy paper on social care, known as a Green Paper, is due next summer – and it seems likely that Jeremy Hunt will now play a central role in preparing that document, rather than it staying with the cabinet office.
---