Buttigieg is emerging as the winner of the Iowa caucuses with a minimal advantage against Sanders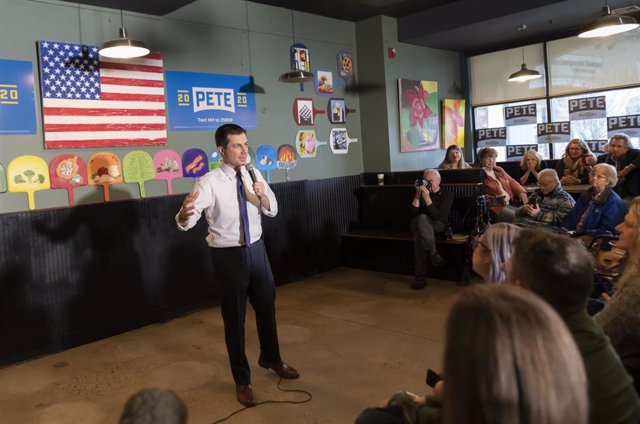 The candidate for Democratic presidential nomination Pete Buttigieg at an election ceremony in New Hampshire – Rick Friedman
WASHINGTON, Feb. 6 (EUROPE PRESS) –
Democratic candidate Pete Buttigieg has managed to prevail in the Iowa caucuses with 26.2 percent of the vote, only one tenth percent more than Senator Bernie Sanders, who remains in 26.1 percent of the support, according to The count with 97 percent scrutinized, the CBS News television network reported.
In the absence of that 3 percent vote to be scrutinized, the mayor of South Bend has taken 26.2 percent of the vote for the concession of state delegates in the Iowa caucuses, followed by Sanders, with 26.1 percent, Elizabeth Warren, with 18.2 percent, Joe Biden, with 15.8 percent, and Amy Klobuchar, who keeps 12.2 percent of the ballots.
After the problems in the transmission of the results of the neighborhood assemblies of Iowa, the Democratic Party has yet to complete the caucus count on Thursday. The training has stressed that the problems in counting have not affected the counting of votes and stressed that there has been no cyber attack.
Buttigieg's victory in the Iowa caucuses is a clear surprise against previous forecasts and puts him next to Sanders in an optimal position to lead the race for the Democratic nomination in the November presidential elections, in which the current US president, Donald Trump will opt for reelection as a Republican Party candidate.
Along with the surprise of the young mayor of South Bend, the first openly gay candidate competing for the Democratic nomination, the fourth position that former Vice President Joe Biden has achieved has surprised US media and analysts.
Biden started as a favorite in the race for the Democratic nomination and the experience of previous primary processes indicates that the candidate who is in the first two positions in Iowa is the one who ends up achieving the Democratic nomination.