Buns out of the oven? Midwifes compete in cake contest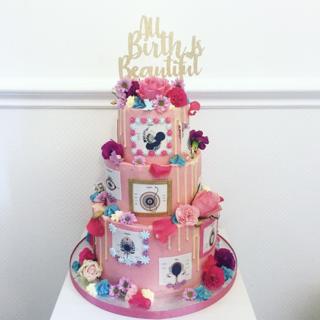 Midwives have been flaunting both their artistic and baking skills at the annual Great Midwifery Cake Off competition.
Organised by the Royal College of Midwives (RCM), the contest celebrates the work of midwives from across the UK.
Pictures of the entries were published on the RCM's Facebook page and the one which received the most likes won.
Kristina Foley, a midwife from Warwick Hospital, part of the South Warwickshire Foundation Trust, was announced as the winner.
"The idea behind the cake is to try and empower all women with the belief that all birth is beautiful," said Kristina.
The three-tiered pink cake has the phrase "my birth is beautiful" at the very top. Around the cake is artwork relating to the different stages of delivering a baby.
Kristina says she wants to "try and educate women on these processes and encourage them to have confidence in their bodies" when giving birth.
Below is a selection of the other entries into the RCM Great Midwifery Cake Off 2018:
Produced by Patrick Evans and Kris Bramwell at the UGC Hub