Bullying claims against Speaker John Bercow 'concerning', says No 10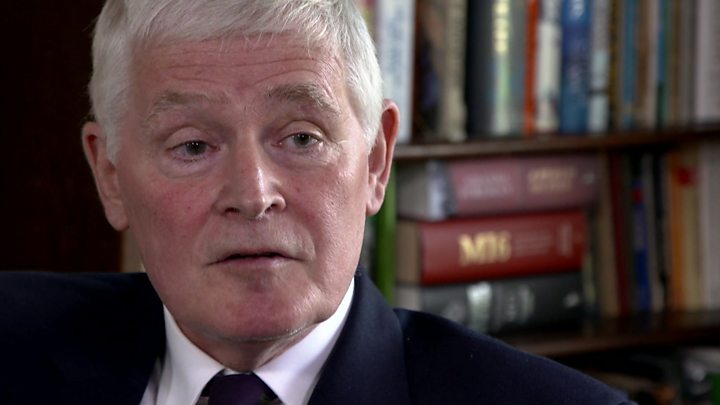 Allegations of bullying against Speaker John Bercow are "concerning" and should be properly investigated, the prime minister's spokesman has said.
Mr Bercow's former private secretary Angus Sinclair claims that the Speaker shouted and swore at him, and attempted to physically intimidate him.
The No 10 spokesman said it was a matter for Parliament to decide how to investigate the claims.
A spokesman for Mr Bercow said there was "no substance" to the allegations.
Speaking in the Commons on Wednesday, Mr Bercow said: "I have a superb team of dedicated, effective and long-serving staff, five of whom have served me for a collective total of over 40 years.
"I am also happy to confirm that the great majority of people who have left my service have done so on perfectly amicable terms."
Mr Sinclair told Newsnight that he faced angry outbursts from Mr Bercow whilst working for him in 2009-10 – all of which Mr Bercow denies.
He claims the Speaker would undermine him in front of other staff, mimic him, and, on one occasion, Mr Bercow smashed a phone on his desk.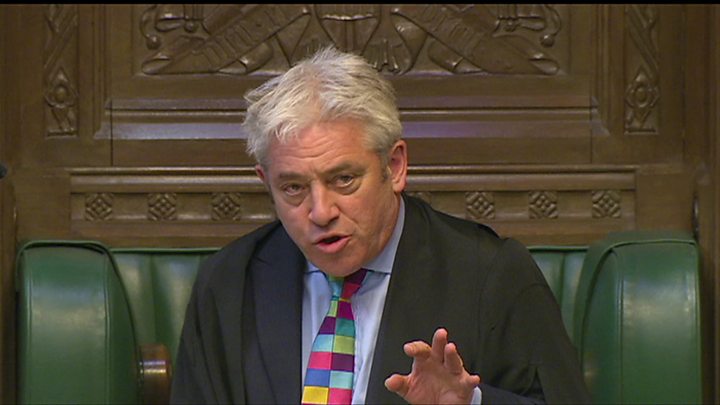 The PM's spokesman said there were a number of ways an investigation could move forward.
He said the House authorities – the employers of parliamentary staff – could consider the best way for an investigation to be carried out, or the Parliamentary Standards Commissioner could investigate a named MP alleged to have breached the code of conduct.
The spokesman also said that the chair of an existing inquiry into allegations of bullying and harassment in Westminster, Dame Laura Cox, "may wish to consider" the allegations in the terms of reference for her inquiry.
Leader of the House and Tory MP Andrea Leadsom also said it was up to Dame Cox to decide if her independent inquiry needs to be expanded to allow for investigations into individuals to take place.
"I'm sure she will be looking very carefully at how best to respond to these latest developments," she added.
"I am determined to stamp out all forms of bullying and harassment in Parliament, and separate to these allegations, I encourage any member of House staff who has experienced mistreatment to provide their confidential testimony to Dame Laura Cox."
'Public interest'
Mr Sinclair said he was paid £86,250 in 2010 when he was given a "compulsory early retirement" by Commons authorities, as part of a deal that required him to sign a non-disclosure agreement.
This is not conventional for people retiring from the House.
Breaching the terms of the agreement by speaking to Newsnight, he said: "I thought to myself, it's in the public interest to know why I left.
"Yes, it breaks that non-disclosure agreement, but it's the truth. There was bullying."
Mr Sinclair – who spent 30 years in the Royal Navy before joining the House of Commons in 2005 as private secretary to then-speaker Michael Martin – told Newsnight that Mr Bercow was prone to "over-the-top anger."
He added: "I'm not sure he was completely in control of it. The arms would wave around".
Newsnight has spoken to other members of House staff, who have corroborated this account.
Other officials have described Mr Sinclair being undermined in meetings and being held responsible for things that were beyond his power.
But some politicians have come to Mr Bercow's defence.
Labour peer Lord Hain said the "attack" on the Speaker was motivated by those "resisting his essential parliamentary reforms".
Labour MP Barry Sheerman also defended Mr Bercow, saying he had been the "best reforming Speaker for 100 years", and it was only a "small group" of parliamentary officials "hated" his modernising efforts.
The Dame Cox inquiry into the treatment of the apolitical staff who run the House was launched after a previous investigation by Newsnight.
The programme reported House of Commons managers were informed in 2011 that Kate Emms – Mr Sinclair's successor – had been diagnosed with post-traumatic stress disorder after less than a year working for Mr Bercow.
The Speaker has categorically denied bullying Ms Emms.
However, the current parameters of the inquiry are not geared to look into individual cases or reopen past complaints, but the overall culture in Westminster.
Asked by the chair of the Equalities Committee, Maria Miller, whether he believed his staff should be allowed to speak out about alleged wrong-doing, Mr Bercow told the Commons they should.
He said that any agreements signed by current or former staff of his would not constrain them from talking to Dame Cox's inquiry "freely and confidentially", adding: "I hope that they will do so."
He also said he would not be making a further statement on the allegations to the House.