'Build all Navy ships in UK', says Corbyn ahead of Govan visit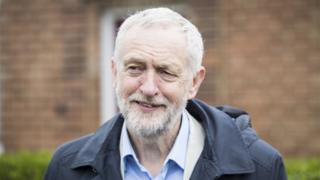 Jeremy Corbyn is to call for Navy shipbuilding contracts to stay in the UK in a speech in Glasgow.
There has been speculation that a £1bn contract for three new Royal Fleet Auxiliary support ships could go to a foreign shipyard.
The vessels will provide ammunition, equipment and food to Royal Navy warships.
The Labour leader will claim that building them abroad would "trash" the UK's shipbuilding tradition.
Current UK government policy is for British yards to construct complex warships such as the eight Type 26 frigates which are to be built at BAE Systems' Govan and Scotstoun shipyards on the Clyde over the next 20 years.
But non-combat vessels can be built overseas – with a £450m deal to build four tankers to fuel Navy ships at sea being awarded to Daewoo, a South Korean firm, in 2012.
Full capacity
The Ministry of Defence contract for the Royal Fleet Auxiliary solid support ships is expected to go out to international tender later this month – but unions have called for the process to be UK-only.
Speaking last month, Scotland's first minister Nicola Sturgeon told Holyrood that it would be a "blatant betrayal" if the work did not go to Scottish shipyards as "during the (independence) referendum, promises were made to those shipyards by the Tories".
She added: "I argue that that work was promised to the Clyde and should definitely go to the Clyde".
But it has been reported that the Clyde yards are not likely to bid for the contract as they are already at full capacity with the Type 26 work.
On a visit to Govan, Mr Corbyn will say building the ships somewhere in the UK could secure more than 6,500 jobs – 1,800 of these in shipyards.
He will argue that workers in British shipyards "share a proud tradition – building the best ships in the world".
'Industrial decline'
But he will warn: "The Conservative government is trashing that tradition by offering up the Ministry of Defence's most recent contract for three new Fleet Solid Support Ships to overseas companies to build abroad.
"This decision is wrong. Today we are calling on the government to guarantee that these three new ships for the Royal Fleet Auxiliary will be built in domestic shipyards.
"Our shipyards used to produce half of all new ships worldwide. Our current market share is now less than half a percent. The Tories seem hell-bent on accelerating and deepening this industrial decline."
The Labour leader will also pledge that his party would use public contracts as part of its bigger plans to upgrade the economy, and urged people not to listen to anyone who said the country was no longer capable of building things.
The MoD said that the work on eight new Type 26 anti-submarine ships and five smaller Type 31 frigates mean that the UK "is witnessing a renaissance in shipbuilding", including securing "4,000 jobs and 20 years of work" on the Clyde.
A spokesman added: "We are launching a competition for three new Fleet Solid Support ships this year and strongly encourage British yards to take part.
"Since 2010 this government has invested more than £6bn in shipbuilding in the UK, securing thousands of jobs. In 2018/19 we expect to spend in excess of £750m supporting the fleet."
And it has said that UK shipyards are "strongly encouraged" to bid for the support ship contract, which is expected to be awarded in 2020.