BT cuts 13,000 jobs to slash costs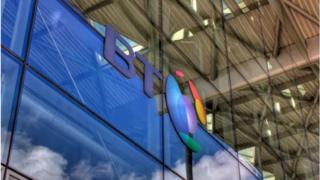 BT is to cut 13,000 jobs over three years, about 12% of its workforce, as it seeks to slim down its management and back-office roles.
The telecoms giant said that the job cuts and other measures would help it to reduce costs by £1.5bn.
It added that it would be hiring about 6,000 employees to "support network deployment and customer service".
A third of the job reductions will come from outside the UK in its Global Services division.
Last year, BT was forced to write down the value of the Italian part of Global Services after an accounting scandal that cost the firm more than £500m.
The company also said it intended to move out of its existing central London headquarters and into smaller premises.
Its shares fell nearly 8% in early trading. BT said it was keeping its full-year dividend unchanged from last year at 15.4p a share.
'Lean and agile'
BT said it was responding to changes in the telecoms market, including "increasing competitive intensity from established companies and new entrants".
"It is critical that BT transforms its operating model to build a lean and agile organisation that delivers sustained improvement in customer experience and productivity," it said.
The announcements came as BT disclosed that its annual pre-tax profits rose 11% to £2.6bn in the year to March.
The firm also announced a 13-year plan to plug its £11.3bn pension fund deficit, including regular payments into the scheme and a bond issue.
Chief executive Gavin Patterson said BT was in a unique position: "We have the UK's leading fixed and mobile access networks, a portfolio of strong and well segmented brands, and close strategic partnerships.
"This position of strength will enable us to build on the disciplined delivery and risk reduction of the last financial year, a period in which we delivered overall in line with our financial and operational commitments whilst addressing many uncertainties."