Brussels is unmarked from the 'Greta syndrome' that pointed out Borrell and supports the youth movement for the weather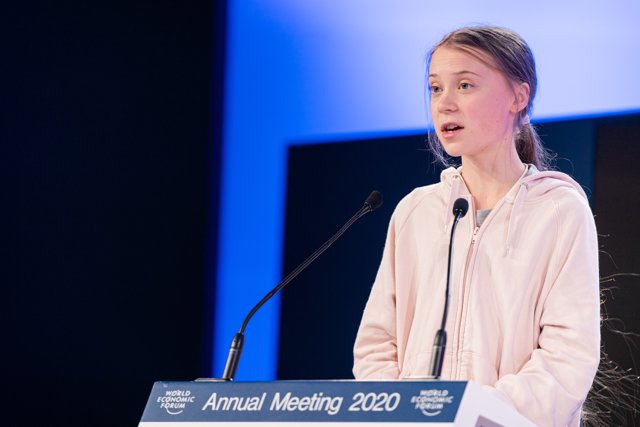 HANDOUT – 21 January 2020, Switzerland, Davos: Swedish climate activist Greta Thunberg speaks during the "Averting a Climate Apocalypse" session at the 50th World Economic Forum Annual Meeting. – Manuel Lopez / World Economic Foru / DPA
BRUSSELS, Feb. 7 (EUROPE PRESS) –
The European Commission has unchecked this Friday from the statements of its Vice President and EU High Representative for Foreign Policy, Josep Borrell, who questioned the commitment of young people to the fight against climate change and warned of a 'Greta syndrome', in reference to the well-known Swedish activist, Greta Thunberg.
"I think that the 'Greta syndrome' has not yet been defined as a pathology yet. We do not believe that it exists," said the Commission's main spokesman, Eric Mamer, on Friday at a press conference to the journalists' questions about the Borrell statements.
"We clearly have a position on this issue and it is crystal clear. We support the aspirations of young people," Mamer has settled. Thus, the Commission has reiterated its commitment to the European Green Deal plan that it intends to implement in the coming years to tackle climate change and has indicated that it "knows and supports" youth claims such as those of the Fridays for Future platform that they ask that governments act against climate change.
Given the doubts expressed by the High Representative, who questioned that young people know the cost of environmental policies, the spokesman has claimed that the Brussels plans seek that the demands of young activists "become a reality, without leaving nobody behind. "
This Wednesday, in the presentation in the European Parliament of the memoirs of the former 'popular' deputy minister and MEP José Manuel Garcia Margallo, the head of European diplomacy questioned the commitment of young people in the fight against the weather, claiming that there is a "syndrome Greta. " "It's okay to go out and demonstrate until they ask you to contribute to pay," he insisted.
In this way, Borrell warned that policies against climate change have costs that will have an indebtedness for the next generations and established a dilemma between environmental policies and the economic deficit.
"I would like to know if the young people who go out to demonstrate in Berlin are aware of what these measures are worth and if they are willing to lower their standard of living to support Polish miners," he said.