Brooklyn Nine-Nine saved after fans' outcry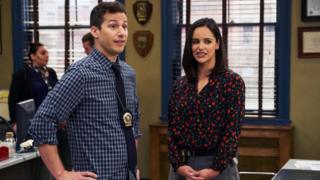 US network NBC has picked up Brooklyn Nine-Nine, just one day after Fox announced it was cancelling the cult comedy.
The decision to end the series had sparked outrage among fans and celebrities alike.
The 13-episode sixth season will air next year.
Brooklyn Nine-Nine follows a team of detectives in the New York City Police Department and has been praised for its inclusivity and diversity.
Following Fox's decision to axe the series, fans quickly launched a social media campaign calling for it to be renewed, with the hashtag #Brooklyn99 used over 650,000 times on Twitter.
Celebrities including the Backstreet Boys and director Guillermo del Toro weighed in with messages of support.
Skip Twitter post by @RealGDT
Brooklyn Nine-Nine has given us fully human characters, beautiful, powerful, flawed, vulnerable, majestic… In whichever form, B99 must return. It will. And I will be there to watch. And, it is my hope that I hope that, this time, a lot more people do too.

— Guillermo del Toro (@RealGDT) May 11, 2018
End of Twitter post by @RealGDT
The series' actors and writers credited fans for NBC's decision to save the series.
Skip Twitter post by @djgoor
Hey everyone, just wanted to say no big deal but….

NBC JUST PICKED #BROOKLYN99 UP FOR SEASON 6!!!

Thanks in no small part to you, the best fans in the history of the world!

Nine-nine!!!!!!!!!

— Dan Goor (@djgoor) May 12, 2018
End of Twitter post by @djgoor
Actress Melissa Fumero, who plays Amy Santiago, shared celebratory gifs from the show, while Stephanie Beatriz, who appears as Rosa Diaz, thanked viewers.
In a statement, NBC Entertainment's Chairman Robert Greenblatt said: "Ever since we sold this show to Fox I've regretted letting it get away, and it's high time it came back to its rightful home."
Brooklyn Nine-Nine had been one of the longest-running comedies on Fox, with a 100% critics' rating on Rotten Tomatoes, as well as a 95% audience score.
The fifth season is currently being shown on E4 in the UK. The season finale will air on 20 May in the US.