Briton injured in South Africa park lion attack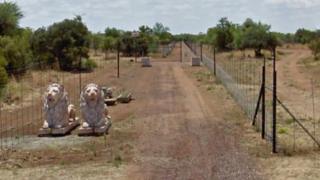 A British wildlife park owner is recovering in a South African hospital after being mauled by one of his lions.
Mike Hodge, 67, suffered neck and jaw injuries in the attack at the Marakele Animal Sanctuary in Thabazimbi.
A video of Mr Hodge being attacked and dragged by the large male lion has been circulating on social media.
The BBC understands the lion, reportedly called Shamba, has been put down.
Mr Hodge, who set up the sanctuary with his wife Chrissy in 2010, had gone into the lion's enclosure to investigate a strange smell.
The video shows the lion attacking Mr Hodge as he tries to leave the enclosure, and then drag him along the ground towards some bushes.
A spokeswoman for the Hodge family, Bernadette Maguire, has reportedly said in a statement that the incident happened as tourists were being shown around the sanctuary.
In the video, people can be heard screaming as Mr Hodge calls for help.
The statement said Mr Hodge is "only too aware of the dangers of working with wildlife but they remain his passion" despite the incident.
It also highlighted how the family are "devastated" at the death of the lion, which they had raised from a cub.
'Look you in eyes'
Mr Hodge was rescued when a warden fired a gun causing the lion to run off.
The park remains closed following the attack.
According to its website the sanctuary is home to a number of big cats, including tigers, as well as birds, monkeys and a collection of small animals,
The site offers a "lion mobile" tour which allows visitors to get close to the lions.
The description of the tour on the website says: "I can promise you that Shamba will jump up and look you in the eyes, he also sits on the top of the truck whilst we take the drive through the camp."