British rugby player from Durham team dies in Sri Lanka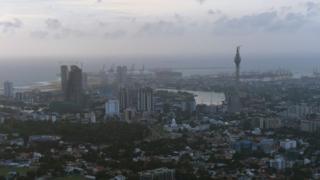 A British amateur rugby player has died and another is critically ill after complaining of breathing difficulties on returning from a nightclub in Sri Lanka.
The pair had been touring the country with Durham-based Clems Pirates RFC when they visited the club in Colombo.
Sri Lanka Police said a 26-year-old man had died in hospital at 12:00 local time on Sunday.
A team mate is said by police to be in a "very" critical condition.
The team arrived in Sri Lanka on Wednesday and began the tour with a game against Ceylonese Rugby and Football Club (CR & FC) in Colombo.
According to the police, British players went to a nightclub after the match and returned to their hotel in the early hours of Sunday.
The two players complained of breathing difficulties to the hotel management at about 10:00 on Sunday.
One died shortly after being admitted to hospital less than two hours later.
'Families supported'
Police said a post-mortem examination would be carried out later.
A police spokesman told the BBC: "Both men had returned from a nightclub and had complained of breathing difficulties, and they were admitted to the hospital, one died and another is in very critical condition."
Durham City Rugby Club, which oversees rugby union "veterans" team the Pirates, said in a statement the pair suffered "non-rugby related breathing problems" and were admitted to hospital.
"Subsequently, one of the two has died and one remains in hospital," the statement said.
Sri Lanka Rugby Football Union director Rohan Gunerathne said the organisation was looking into the matter, but confirmed nothing happened on the rugby pitch during the match.
A British High Commission spokesman in Colombo said both families were being supported, and they were in contact with the Sri Lankan medical services.