British police detain two more people for the truck with 39 bodies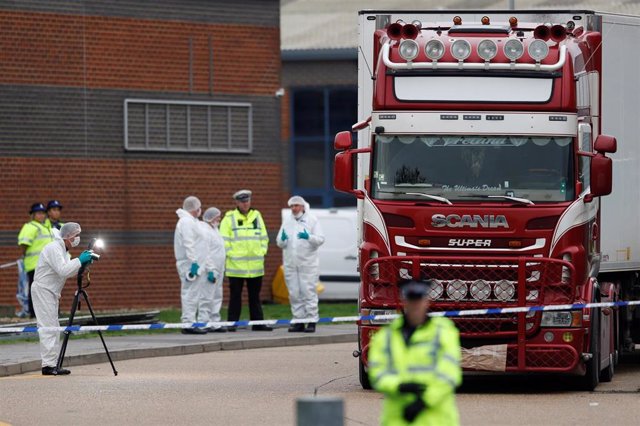 Truck with 39 dead found in Essex – REUTERS / PETER NICHOLLS
LONDON, Oct. 25 (EUROPE PRESS) –
The security forces of the United Kingdom have arrested two more people on Friday for their alleged relationship with the 39 bodies located on Wednesday inside a truck in Essex County, for which the driver of the vehicle was already arrested, a 25 year old Irishman.
As part of the investigations opened in this case, the Police have carried out an operation in Cheshire County and arrested a man and a woman, both 38 years old. They are charged with conspiracy to smuggle people and 39 homicide charges, according to an Essex Police statement.
In the absence of the process of identification of the bodies, the British authorities have already pointed out that they are Chinese citizens. On Thursday, the transfer of the bodies began to the morgue of Chelmsford Broomfield Hospital, where autopsies began this Friday.
The Essex Police have insisted that it will be a "long" process, followed closely from China. The Chinese Embassy in London, which has sent a team to Essex to meet with local forces, has avoided confirming the nationality of the deceased.
Chinese Foreign Ministry spokeswoman Hua Chunying is also confident that British authorities can "confirm and verify the identity of victims as soon as possible, find out what happened and severely punish the criminals involved," according to the Reuters news agency. .