British father dies 'in fall' at Dalaman airport in Turkey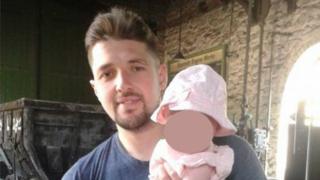 A 30-year-old British man from County Durham has died, apparently after a fall from a balcony at Dalaman airport in Turkey.
Andrew Westlake had been on his first foreign holiday with his partner and one-year-old daughter.
His relatives have asked to see CCTV footage from the airport to establish what happened.
As Mr Westlake did not have travel insurance, the family have been asked to pay a €9,000 hospital bill.
A Foreign Office spokesman said officials were supporting Mr Westlake's family and were in touch with local authorities investigating the death.
Local news agency Dogan said that before his death the British man had been at the airport for three days.
Once on a plane he reportedly argued with cabin crew and was subsequently escorted off for "putting the flight at risk".
His aunt Pauline Butler said: "We are still in the dark about what has happened."
'On edge'
Perry Sheldon from Dudley, North Tyneside, who boarded the flight with Mr Westlake, said his fellow passenger appeared "on edge".
Mr Westlake had told Mr Sheldon that he had been kicked off a previous flight due to "blisters on his feet from sunburn".
"He said there were signs up saying people should not wash their feet and when they questioned him about it, they said it was an insult to their culture," said Mr Sheldon.
Twenty minutes after boarding Mr Sheldon says Mr Westlake was removed from the plane.
He said: "He [Mr Westlake] didn't act aggressively in any way, he just stood up and got off.
"All he did was say to the man next to him 'I told you that would happen'."
The airline, Jet2, has released a statement confirming that one of their customers died at the airport.
It said the man was not injured on or in the vicinity of their aircraft.
A spokesman for Durham Constabulary said: "Our officers passed the devastating news to the family who we are supporting. Our thoughts are with Andrew's family and friends."