British bar workers in Majorca 'at risk of modern slavery'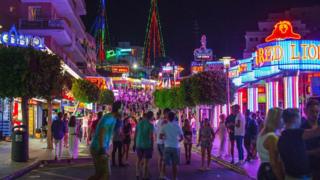 Young Britons could be at risk of modern slavery if they work as touts outside the bars of Majorca, the Foreign Office has warned.
An undercover investigation commissioned by the department found that many of the workers had their passports seized by employers, were charged high rents and paid low wages.
It discovered 20 of the 25 Britons in prison on the island were former touts.
The Border Force is carrying out a week-long campaign to raise awareness.
Touts – also known as PRs – are employed to encourage customers to come into their bars with drinks deals and to ensure they stay.
The investigation was conducted by criminologists, who also found women were subject to sexual abuse from customers and men were attacked or bullied when working to bring people into clubs.
Lloyd Milen, the British Consul for Barcelona and the Balaeric Islands, said: "We wanted to understand what factors were at play, and then how we could prevent it.
"We commissioned some independent research, which showed us that many PR workers ended up in serious debt, many were working illegally, some had their passports retained and others faced repeated sexual harassment and assault."
The research also revealed that some of the touts took up drug dealing to make ends meet, whilst others began to have problems with alcohol.
Immigration Minister Caroline Nokes said: "By highlighting the issue we want to ensure that those contemplating PR work in Majorca, many of whom are tourists tempted by the idea of an extended stay in the sunshine, do not find their summer turning into a nightmare."
The modern day slavery charity, Unseen, will be visiting airports and targeting flights to the island with leaflets to ensure young people heading out there are cautious.
Justine Currell, one of the charity's directors, said: "It can be really hard to tell the scale of the problem as the people doing the jobs can seem quite happy.
"But they can be stuck in situations where they are not allowed to leave, they don't have their passports and are forced to pay extortionate amounts of rent.
"We just want them to know that they have somewhere to turn – they can call our confidential helpline and there is help available."
Reality of the job
Fashion vlogger Jasmine Clough is releasing a video to warn her 200,000 followers to be careful if they choose to work abroad.
"It is something I have considered doing, and I have a friend working in Magaluf at the moment who said it is really long hours and a lot of hard work," she said.
"She hasn't had any bad experiences yet, but she is lucky.
"You think it will be loads of fun but the reality can be very different – I just want to warn people about the risks."
The Foreign Office advises that anyone who is overseas and has had their passport taken should first report it to the police.
British nationals should then contact the local British Consulate for help and advice and to get a replacement.
---
Have you worked as a tout in Majorca? What were your experiences? Please get in touch by emailing haveyoursay@bbc.co.uk.
You can also contact us in the following ways: