Britain's oldest men mark 110th birthday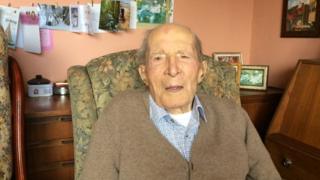 Britain's two oldest men, born on the same day, have been celebrating their 110th birthdays.
Alf Smith, from St Madoes in Perthshire, and Robert Weighton, from Hull, were born on 29 March 1908.
Robert, who now lives in Alton in Hampshire, said he was just "one of the lucky ones" to live so long.
Alfred, who continued to work on his farm at Kinfauns near Perth into his 80s, said he benefited from having a job he enjoyed.
The men have never met but exchanged birthday cards in recent years.
It is not known which of the men was born first.
They have now lived through two world wars and 29 general elections.
Both have also spent a period of time in Canada.
Alfred was born in Invergowrie, the fifth of six sons in his family.
Before he was 20, he emigrated to Canada but returned to Scotland five years later.
With his wife Isobel, he farmed at Kinfauns, and they had two children.
Although Alfred retired at the age of 70, he continued to help on the farm well into his 80s.
He remembers farm life before tractors replaced horses and farm hands.
'A good life'
Asked what might explain his longevity, Alfred said: "Porridge, of course! I like my porridge and I eat it every day.
"That is helpful and having a job you enjoy.
"I like to think I've lived a decent life. I do ask myself – why me? Why have I lived so long when others haven't?"
His daughter Irene puts it down to his work as a farmer.
She said: "He says he enjoyed what he did and he has had a good life.
"He has been within two or three miles of the river Tay all his life like his father and grandfather before him."
Robert was born in Hull.
He worked as an engineer, spending time in Taiwan, Japan and Canada. He now lives in a flat in a care complex at Alton.
"I have not lived my life avoiding being run over by buses or getting cancer or anything else," he said. "I've done nothing to deserve or achieve this age. I'm just one of the lucky ones."
Robert, one of a family of seven, had three children, 10 grandchildren and 25 great-grandchildren.
He said money has never been important to him, adding: "I think laughter is extremely important.
"Most of the trouble in the world is caused by people taking themselves too seriously."