Brit Awards 2018: Kendrick Lamar's drug and sex references were muted by ITV
Brit Awards viewers were left baffled after parts of rap star Kendrick Lamar's performance were muted by ITV.
"What's the point in having Kendrick Lamar perform on #BRITS if you're going to mute him every other word?" tweeted JP, voicing the discontent of many.
Many assumed that Lamar's songs – Feel and New Freezer – were muted due to bad language. But it seems the main issues were references to drugs and oral sex.
Some muted sections featured mentions of "bad dope" and "cocaine white".
The US superstar himself actually changed the most overt bad language in his lyrics – but fell foul of the censor's button for the drug words and oblique slang references to oral sex.
Stormzy steals the show at Brit Awards

Brit Awards 2018: The best pictures

Brits 2018: The real winners and losers

Stormzy asks PM 'where's the money for Grenfell?'
Lamar's performance at the Brit Awards in London was broadcast on ITV on Wednesday almost an hour past the 21:00 watershed.
Yet the decision was made to mute the audio 10 times during his performance – recalling an appearance by Kanye West in 2015 that also fell foul of the broadcaster's censors.
Asked about the decision to mute parts of the songs, ITV said the ceremony was broadcast "to a wide audience".
"We have always used a short time delay and audio muting to deal with language viewers may consider unsuitable," a spokeswoman said.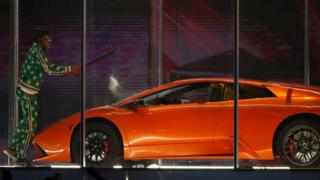 Lamar's performance also included a man taking a baseball bat to the windshield of an expensive-looking sports car.
On Thursday morning, media watchdog Ofcom said it had received 74 complaints from viewers about Lamar's segment – some of whom feared this might incite criminal behaviour and property damage, and some complaining about implied bad language.
BBC music reporter Mark Savage described the car stunt as the evening's "biggest metaphor failure".
"His intention was to make a statement about the emptiness of status symbols and the trappings of fame," he wrote.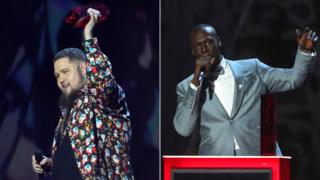 "But, with most viewers unable to hear his lyrics, it came off as 'I'm so rich I can afford to smash up this very expensive car live on TV.'"
The BBC understands the car in question was a £20,000 replica of a Lamborghini Murcielago.
The end of Rag 'N' Bone Man's speech after he won best British single was also muted after the singer – real name Rory Graham – used the f-word.
Yet Stormzy's use of an offensive Jamaican slang word went out uncensored when he took to the stage to accept the award for best British male at 20:32 GMT.
ITV said: "The use of this word during Stormzy's acceptance speech was not recognised at the time. We will address this for repeats."

Follow us on Facebook, on Twitter @BBCNewsEnts, or on Instagram at bbcnewsents. If you have a story suggestion email entertainment.news@bbc.co.uk.
BBC Music homepage

BBC Music News LIVE