Brexit: Why do some UK citizens fear for their future rights?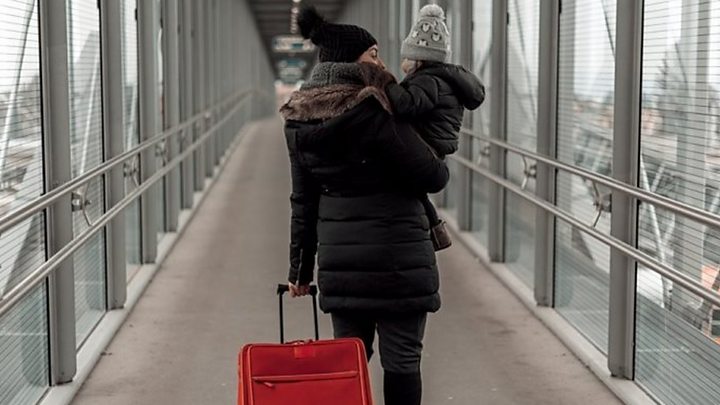 Hundreds of thousands of British citizens living elsewhere in the European Union fear they will not be able to live and work as they do now after Brexit, despite assurances from both sides that the rights of citizens have been guaranteed.
"We've been left in limbo," says Fiona Godfrey, a freelance legal consultant living with her family in Luxembourg who also volunteers with the pressure group British in Europe.
"I think it's shameful. We should never ever have been put in this position."
The dilemma is that what has been agreed so far between the UK government and the EU – in the Withdrawal Agreement they are negotiating – will only give British citizens the right to live and work in the country where they reside.
'I've worked in every EU member state'
In Fiona's case, that means tiny Luxembourg. But at the moment she works in other countries every week, relying on her rights of freedom of movement within the EU single market.
"In 20 years I've worked in every EU member state, plus Norway and Switzerland," she says.
"We want to keep the rights we have – we need to keep our free movement, we need to keep our rights to work, and we need to keep recognition of our professional qualifications, because that is another huge issue."
Some UK citizens in the EU will be able to continue to work as they do now.
If, for example, you are defined as a frontier worker – crossing a border on a regular basis for a nine-to-five job on a regular employment contract – then you should be OK.
'Very stressful'
But if you are defined as a cross-border supplier of services there is no guarantee as yet that you'll be able to work after Brexit as you do now.
New restrictions could apply to all sorts of people: lawyers, architects, truckers… or freelance chefs cooking for hungry skiers in the French Alps.
"It's been very stressful. Nearly two years now, and we still have no clarity on what is going to happen and how we are going to be affected," says Helen Malaburn, speaking from her home near Les Trois Vallees in France.
She and her husband have lived there for 10 years, cooking for tourists and local residents during the winter ski season.
But in the summer, the work dries up, and they spend their time working in places like Greece and Spain.
"At the moment, we do approximately half of our work outside France," Helen says. "There's no way we could sustain ourselves on the winter work that we do."
"We're completely dependent on being able to work across the EU, and having our qualifications (as chefs) recognised in every country, like they are now."
Helen and Fiona are not alone.
The debate about UK citizens living in the EU often focuses on pensioners seeking warmer weather – and they certainly have concerns of their own. But roughly 80% of the one million or so Brits in the EU are of working age or younger.
There is a lack of clarity on a number of other issues that concern them.
Dual citizenship
It is still not clear, for example, whether UK citizens in the EU will have access to university education on the same financial terms as they do now; nor whether – as part of a bureaucratic process – they will have to make new applications to remain in the countries where they live.
One solution to the dilemma facing so many people is to apply for dual citizenship. Both Helen and Fiona are in the process of doing so, as are many of their British counterparts.
But it's not an option available in every country – Austria and the Netherlands, for example, don't allow it and other countries have some restrictions. Nor is there a guarantee of success, and the application process takes time.
A resolution?
And that is the one thing that is now in short supply. The European Parliament has promised to take a tough line on protecting citizens' rights, and the Dutch MEP Sophie in 't Veld is critical of both sides in the Brexit negotiations.
"They're making it into a legalistic issue," she says, "but this is about the fundamental rights of people who have set up their lives here in Europe and are counting on free movement.
"So this is a condition for the European Parliament to give its consent to the Withdrawal Agreement."
Does she think the European Parliament would otherwise struggle to approve the agreement (which it has to do before Brexit happens)?
"Yes. We have adopted a series of resolutions where we set out our conditions for giving consent, and this is one of them."
So when can UK citizens expect their concerns to be addressed?
The EU says the whole notion of "mobility of citizens" will be part of negotiations on the future relationship between the UK and the EU.
But those talks have barely begun, and they won't be concluded by the time Brexit is due to take place in ten months' time.
The fear is that "mobility of citizens" would then get caught up in haggling over all sorts of other issues in negotiations on a future free trade agreement. It wouldn't be a comfortable place to be.
"I don't feel like a bargaining chip, I am a bargaining chip, and I shouldn't be," says Fiona Godfrey.
On behalf of British in Europe, she has this appeal for Theresa May:
"Write to the member states, write to (Michel) Barnier, and say we would like British citizens to have continuing free movement.
"We think it is a deal that can be done if she just makes the request."
The rights of EU citizens in the UK and Britons in the EU
The proposed 21-month transition (or implementation) period after Brexit gives everyone involved a bit of breathing space, but time to include a deal on future free movement in the Withdrawal Agreement is fast running out.
So does the government think that is still a possibility? In a written statement, the Department for Exiting the European Union, said:
"We've reached a reciprocal deal for our citizens during the implementation period that recognises the valuable contribution that EU citizens make to the UK, and that UK citizens make to the EU.
"The issue of onward movement rights for UK citizens in the EU has not been forgotten and we will raise this in the next phase of negotiations.
"The UK will seek to reach a final deal that is in the mutual interest of citizens living across the continent."
But no-one knows when that final deal on the future relationship will be agreed.
And the concern among many UK citizens in the EU is that they will have no certainty about their future status, and their ability to work as they do now, until after the UK has left.
Read more from Reality Check
Send us your questions
Follow us on Twitter