Brexit: UK must not be EU 'colony' after Brexit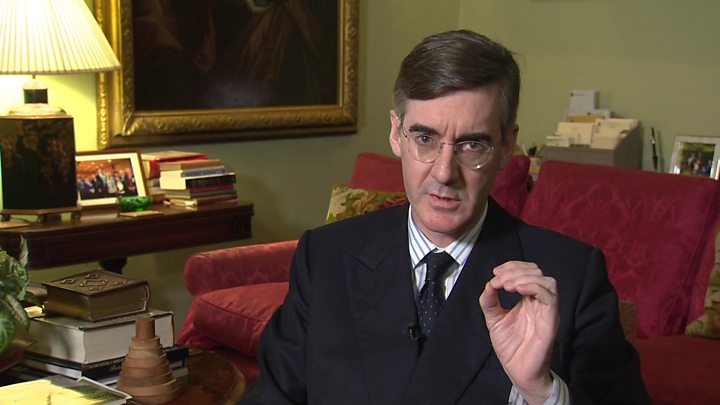 A leading Brexiteer has said the UK cannot become a "colony" of the EU during the two year transition period after Britain's withdrawal in 2019.
EU leaders have agreed Brexit talks can move on, with the UK staying in the customs union, single market and under the European Court of Justice's jurisdiction during the transition.
Conservative MP Jacob Rees-Mogg said that would be unacceptable.
But Tory remainer Ken Clarke said the UK must not "go off a cliff edge".
The former chancellor told BBC Newsnight that during the transition the UK would continue economically under the current terms, but would have left the union politically.
Otherwise, he said it would be a "disaster" if come March 2019 negotiations were not finished and the UK would have to resort to tariff and customs barriers.
"I doubt we'd get the planning permission for the lorry parks in time," he said.
However, Mr Rees-Mogg said leaving under these terms would be "a ridiculous position to be in".
"The transition which the EU is offering means that we're still effectively in the European Union for the following two years," he told Newsnight.
On Friday, Prime Minister Theresa May hailed an "important step" as Donald Tusk, the president of the European Council, announced that all 27 EU leaders were happy to move on to the next phase of negotiations.
The first issue to be discussed, early next year, will be the details of the expected two-year transition period after the UK's exit.
Death threat
The EU has published its guidelines which say: "As the UK will continue to participate in the customs union and the single market during the transition, it will have to continue to comply with EU trade policy."
The three-page document says the UK will remain under the jurisdiction of the ECJ and be required to permit freedom of movement during any transition period.
But Mr Rees-Mogg said such a situation would make the UK "a vassal" – or subordinate – state of the EU, having to accept laws "without any say-so" from the British people.
Mrs May suffered her first Commons Brexit defeat earlier this week when MPs voted to give Parliament a legal guarantee of a vote on the final Brexit deal struck with Brussels.
Among the Tory rebels was Mr Clarke, who told Newsnight his actions had in no way undermined the government's negotiating position.
He said he had since received a death threat, although he added it was not his first.