Brexit: Theresa May urges EU to buy into 'ambitious' vision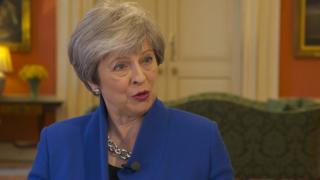 Theresa May has urged the EU to get on with discussing her "ambitious but practical" vision for economic relations with the UK after Brexit.
The prime minister told the BBC's Andrew Marr the "right deal for us will be the right deal for them too".
In a speech on Friday, the PM admitted the UK could not expect the same market access in some areas after leaving.
She said trading arrangements for banks would have to change as they would make the UK a "rule-taker" outside the EU.
The PM set out what she said were "the hard facts" on Brexit in a speech in Friday, in which she said neither side could have exactly what it wanted from the negotiations.
While the UK was leaving the single market and customs union, she said it wanted close alignment in many areas after Brexit – including remaining a member of medicines, aviation and chemicals agencies.
'Hard facts for both' in Brexit talks

Reality Check: Key lines in speech
She told Andrew Marr it was important to be "straight" with people that life would be different outside the EU.
"It was a vision that was ambitious but was also practically based and therefore a credible vision," she said.
While the UK would have the right to diverge from EU rules in some areas, she said it would "make sense" for the UK to keep exactly the same standards in others or achieve the same outcomes by different means.
Mrs May said she hoped financial services would be a key part of what she hopes will be the most far-reaching trade deal ever struck between the UK and EU.
But she conceded that the current system of passporting – which allows banks based in the City of London to trade across the EU without the need for licences in individual countries – was an "intrinsic" part of being a single market of which the UK would no longer be a member.
"If we were to accept passporting, we would just be a rule-taker," she said. "We would have to abide by their rules which were being set elsewhere.
"Given the importance of financial stability, we can't just take the same rules without any say in them."
Asked what she would do if she lost a Commons vote on remaining in the customs union – with some Tory MPs set to side with Labour over the issue – she said she would be making her case to Parliament.
"What I have set out in terms of a customs arrangement with the EU, I think, is actually what most people want to see," she said.
A customs deal that ensured tariff-free trade and the most "frictionless" passage of goods was in the interests of both sides, she said.