Brexit: Technology-based customs system 'could cost £20bn'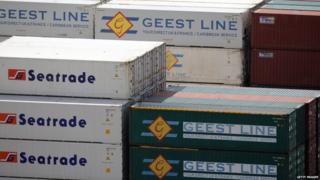 The post-Brexit customs system favoured by Boris Johnson and other leading Brexiteers could cost businesses up to £20bn a year, officials have suggested.
The chief executive of HM Revenue and Customs told MPs firms would have to pay £32.50 for each customs declaration under the so-called "max fac" solution.
John Thompson said any new system could take up to five years to fully work.
No 10 said the £20bn figure was "speculation" but "issues" remained with both options being considered.
The UK is leaving the EU in March 2019, which is currently expected to be followed by a 21 month transition phase before the longer term post-Brexit system kicks in.
Ministers are currently considering two options to replace the existing customs union with the EU, which involves minimal checks, and which the government is committed to leaving.
Brexiteers are sceptical about what is believed to be Theresa May's preferred option of a "customs partnership", under which the UK would collect tariffs set by the EU customs union on goods coming into the country.
Their proposed alternative "maximum facilitation" proposal would rely on technology and advance verification to minimise, rather than remove, customs checks.
Rules of origin
The EU has expressed doubts about whether either option would work.
During questioning by the Treasury Select Committee, Mr Thompson said that if ministers opted for the "max fac" solution this could cost business between £17bn and £20bn each year, reflecting the cost of customs declarations and complying with rules of origin requirements.
He said there were about 200 million exports to the EU each year that could require customs declarations – and a similar number of imports.
Citing research by the University of Nottingham business school and by KPMG, he said the likely cost of individual declarations was between £20 and £55 – and while an average could not be authoritatively calculated, ministers had been advised a figure of £32.50 was plausible.
Payments on either side of the border could cost £13bn a year in total while it was "reasonable" to assume any rules of origin requirements demanded by the EU could add "several billion pounds".
"You need to think about the highly streamlined customs arrangement costing businesses somewhere in the late teens of billions of pounds, somewhere between £17bn and £20bn," he said.
"And the primary driver here is the fact that there are customs declarations."
In contrast, he said the customs partnership option – which has been described as "crazy" by Boris Johnson and "flawed" by Michael Gove – would cost business an estimated £3.4bn a year.
It would, he said, take between three to five years to fully implement any new system after Brexit.
While a "functioning border" was possible by the end of the transition period it would not be, in his opinion, be "fully optimal". But he said no new customs infrastructure would be needed in Northern Ireland.
Mr Thomson declined to answer when it was suggested it would be easier if the UK just remained in the customs union – a solution favoured by business but rejected by ministers.