Brexit: Jeremy Hunt says UK will not stay in customs union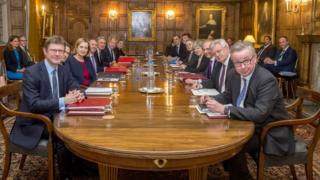 Cabinet minister Jeremy Hunt has said there is no possibility that the government would back remaining in a customs union after Brexit.
The health secretary said the UK wanted "frictionless trade" but would "find a different way" to achieve that.
A Conservative MP says she has cross-party support for an amendment calling for the government to form "a" customs union with the EU after Brexit.
Jeremy Corbyn is set to outline Labour policy on a customs union on Monday.
Mr Hunt was not at the meeting of senior ministers at Chequers on Thursday, at which the UK approach to Brexit was discussed over eight hours – ahead of a speech by the prime minister next week.
But he told BBC Radio 4's Today programme he had been told there had been a "very positive discussion" and "good progress" had been made.
Asked if he thought it likely that the government might budge over its stance on a customs union with the EU after Brexit, he said a customs union was "one way of getting frictionless trade but it is not the only way".
The government wanted to agree "frictionless trade by agreement between two sovereign bodies, the United Kingdom and the European Union", he said.
Asked if there was no possibility of the government coming round to the idea of a customs union with the EU after Brexit, he replied: "No".