Brexit: EU 'removes transition punishment clause'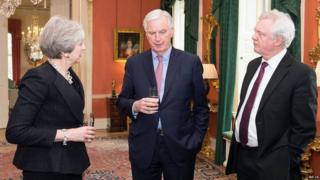 EU diplomats have removed a so-called "punishment clause" from a draft text of the arrangement for the Brexit transition period, the BBC understands.
A footnote published by the European Commission last week suggested that the UK would lose access to elements of the European single market if it broke EU rules during the transition period.
But officials have now promised new wording that makes reference to the EU's standard infringement procedures.
Brexit is scheduled for 29 March 2019.
The two sides are set to begin negotiations next month on the terms of transition period after the UK's departure, which the EU has said should last until 31 December 2020.
Theresa May has said a time-limited implementation period of about two years will allow businesses to adjust to changes arising from Brexit and enable the UK to negotiate its future relationship with the EU.
The EU has said the UK should abide by all existing rules and regulations during the transition phase and, in text published last week, suggested there would be specific sanctions if this was not respected.
Johnson: Let's unite around Brexit vision

Juncker angry at EU 'superstate' claims
This angered a number of Conservative MPs who argue the transition terms being proposed are too punitive and, in particular, the UK should not be expected to sign up to any new laws that it has not had any say over.
The BBC's Brussels reporter Adam Fleming said that, following a meeting earlier on Wednesday, officials from the other 27 nations promised a new, less tough-sounding paragraph will feature in an expanded draft of the withdrawal agreement – expected to be published by the end of the month.
Skip Twitter post by @adamfleming
Sounds like the EU27 have decided that the "'punishment clause" aka footnote No 4 in the draft #Brexit transition text published last week should be replaced with a less tough-sounding paragraph in the Withdawal Agreement that will refer to standard EU infringement process

— Adam Fleming (@adamfleming) February 14, 2018
End of Twitter post by @adamfleming
The EU's Brexit negotiator Michel Barnier has said agreement on a transition is "not a given" since "substantial" disagreements remain on issues, such as freedom of movement and customs procedures on the Irish border.
Speaking on Wednesday, Foreign Secretary Boris Johnson said it would be "intolerable and undemocratic" if the UK was subject to EU laws after Brexit and was not able to determine its own regulations when it came to trading with the rest of the world.
He suggested the benefits of being in the single market and customs union were "nothing like as conspicuous or irrefutable" as claimed by their supporters.
However, Mr Johnson conceded that, during any transition period, things would "remain as they are".